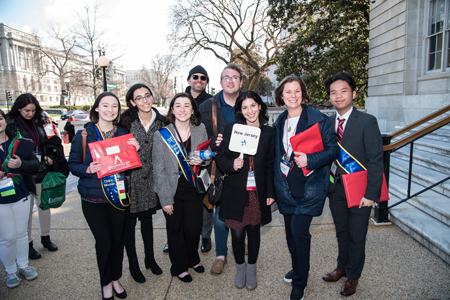 The National Arts Action Summit is your opportunity to receive crucial advocacy training from experts in the field and then put that training into practice. Hosted by Americans for the Arts in partnership with over 85 national arts organizations, the Arts Action Summit is the largest gathering of its kind, bringing together a broad cross-section of America's cultural and civic organizations. Grassroots advocates from across the country come to Washington, DC to meet with their members of Congress to garner support for issues like arts education policy, the charitable tax deduction, and funding for the National Endowment for the Arts.
Each year, ArtPride sends a delegation of advocates to represent the state of New Jersey through facetime with their legislators. 
2020 National Arts Action Summit
March 30-31, 2020 in Washington, D.C.
Attendees will attend a full day of advocacy training to learn the latest research and legislative arts priorities from the experts on Monday, March 30. That evening, The Nancy Hanks Lecture at The John F. Kennedy Center for the Performing Arts is sure to inspire and motivate advocates. The following day, March 31, is Arts Advocacy Day, when advocates take their passion, knowledge, and stories to Capitol Hill for meetings with their congressional leaders. 
After you've completed your registration, please let us know that you plan to be a part of the NJ delegation! We'll keep you posted on scheduling of meetings with your representatives.