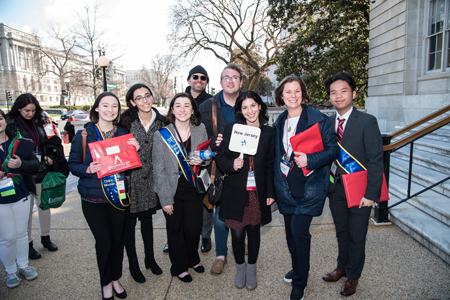 The National Arts Action Summit is your opportunity to receive crucial advocacy training from experts in the field and then put that training into practice. Hosted by Americans for the Arts in partnership with over 85 national arts organizations, the Arts Action Summit is the largest gathering of its kind, bringing together a broad cross-section of America's cultural and civic organizations. Grassroots advocates from across the country come to Washington, DC to meet with their members of Congress to garner support for issues like arts education policy, the charitable tax deduction, and funding for the National Endowment for the Arts.
Each year, ArtPride sends a delegation of advocates to represent the state of New Jersey through facetime with their legislators. 
---
2022 National Arts Action Summit
March 28-30th Virtually through AFTA
Over these few days, you'll gain a depth of knowledge from policy experts at Americans for the Arts and many of our Partners. You'll also be able to watch a recording of these webinars whenever you like to refresh your understanding of the issues. Session topics will focus on the annual appropriations process and the seven creative workforce bills currently being considered by Congress.
Log in to watch the recordings of the 2022 sessions. 
After the Summit prepares you with facts and figures, Arts Advocacy Week will take place the following week, April 4-8, when advocates meet with federal elected officials to garner support for pro-arts issues. As your Americans for the Arts State Arts Advocacy Captain, Vincent Hall will schedule meetings for all New Jersey congressional districts and help you share compelling stories and data about the impact and transformative power that the arts have in their communities. 
This year, for the first time, there will be no registration fee to attend the National Arts Action Summit for both individuals and partner organizations.