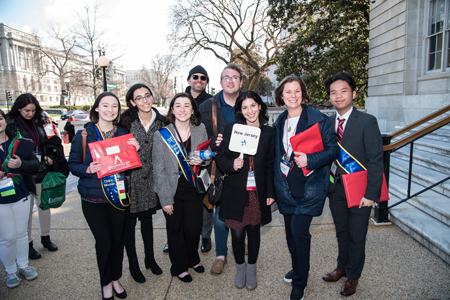 The National Arts Action Summit is your opportunity to receive crucial advocacy training from experts in the field and then put that training into practice. Hosted by Americans for the Arts in partnership with over 85 national arts organizations, the Arts Action Summit is the largest gathering of its kind, bringing together a broad cross-section of America's cultural and civic organizations. Grassroots advocates from across the country come to Washington, DC to meet with their members of Congress to garner support for issues like arts education policy, the charitable tax deduction, and funding for the National Endowment for the Arts.
Each year, ArtPride sends a delegation of advocates to represent the state of New Jersey through facetime with their legislators. 
2020 National Arts Action Summit
March 30-31, 2020 in Washington, D.C.
EVENT CANCELLED
This difficult decision was made to align with COVID-19 health recommendations and warnings issued by the Washington, D.C., government against mass gatherings in the city until March 31. While Americans for the Arts will be making their suite of webinars available, we urge you to email your members of Congress and ask them to sign on to the current "Dear Colleague" letters that request $170 million for the National Endowment for the Arts in the FY21 federal budget. Here is the link at the Arts Action Fund to do that.