ArtPride understands that public health and safety are top priorities for the arts sector. We are actively monitoring the COVID-19 pandemic's impact on our community and compiling resources as they become available.
---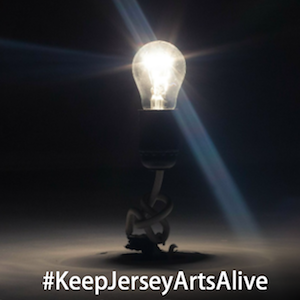 COVID-19 Impact Webinars
Join ArtPride for the next in our series of FREE webinars to discuss updated and valuable information regarding how New Jersey's arts community is reacting to and being affected by the COVID-19 crisis.
 
Thu, July 8, 2021 | 10:00am - 11:00am
May 21, 2021 Webinar: Complete Webinar Video | Slide Deck
Apr 9, 2021 Webinar: Complete Webinar Video | Slide Deck
Mar 12, 2021 Webinar: Complete Webinar Video | Slide Dec
---
ArtPride New Jersey COVID-19 Policy Recommendations
This list of recommendations was adopted by ArtPride's Board of Trustees at its April 7, 2020 meeting and relates directly to arts advocacy needs from private and public sectors to support the state's arts community during the COVID-19 health crisis.
ArtPride Policy Recommendations
---
Resources for Arts Organizations
Americans for the Arts COVID-19 Resource and Response Center
AFTA continues to closely monitor recommendations from the Centers for Disease Control (CDC) and the Federal and D.C. governments as developments evolve concerning the coronavirus. Its online resource center provides information for organizations and individuals, as well as field tools and research.
SVOG and American Rescue Plan Update
NEW Impact Survey for Arts and Cultural Organizations
NJ Creative Economy COVID-19 Impact Infographic
CARES Act Table of Funding Opportunities for the Arts
Impact Survey for Artists and Creative Workers

Bloomberg Philanthropies COVID-19 Local Response Initiative 
Bloomberg Philanthropies is providing cities the tools to understand, respond to, and manage COVID-19, including sector-specific guidelines on reopening that acknowledge differences in cultural venues and visitor experiences.
Reopening the Cultural Sector in U.S. Cities Report

Event Safety Alliance
In response to the catastrophic effects the COVID-19 pandemic has had on the live event industry, the Event Safety Alliance is making it easier to access our guidance, training, and membership programs to ensure that they remain available to everyone during this challenging period. ESA is committed to supporting our industry family as we navigate this situation together.
Event Safety Alliance Reopening Guide
Event Safety Guide

National Endowment for the Arts
The NEA will award funds to nonprofit arts organizations across the country to help these entities and their employees endure the economic hardships caused by the forced closure of their operations due to the spread of COVID-19. All applicants must be previous, direct National Endowment for the Arts award recipients from the past four years (Fiscal Year 2017-2020).
The Art of Reopening - Guide to Current Practices
CARES Act Arts Funding Tracker
The Small Business Owner's Guide to the CARES Act
Opportunities For Small Business in the CARES Act

New Jersey Arts & Culture Recovery Fund
The New Jersey Arts & Culture Recovery Fund has been established to ensure the survival and strength of the state's arts, cultural, and historical sector during and after the COVID-19 pandemic.

New Jersey Personal Protective Equipment (PPE) Access Program
All NJ-based businesses and non-profits are eligible for a 10% discount on PPE purchases made through an approved online retailer. Small businesses with 100 employees or fewer may be eligible for an additional 25% discount.

New Jersey Restart and Recovery "One Jersey Pledge"
To help stop the spread of COVID-19 and save lives, New Jersey cultural organizations, employees, and patrons can participate in the One Jersey Pledge, committing to follow health and safety guidelines during New Jersey's economic and social restart and recovery.

New Jersey State Guidance for Reopening of Theaters, Concert Venues, and Other Performance Spaces
Entertainment businesses, cultural venues, and performance centers may reopen in New Jersey but must follow strict mitigation requirements outlined by the state. Learn more about the protocols outlined in the relevant Executive Orders.

Performing Arts Center Consortium
Performing arts centers are actively developing strategies for resuming operations and reopening their doors once they are authorized to do so. Under current conditions, however, we believe that in order to reimagine our venues and reengage with our communities between now and when we can return to something that resembles normal operations, it is necessary to prepare for various reopening scenarios.
Guide To Reopening Theatrical Venues 

Performing Arts Readiness (PAR) Project
The Performing Arts Readiness Project is offering resources that assist organizations with emergency planning and contribute to sustainability during a crisis. These resources include grants to performing arts organizations for the creation of individual institutional emergency preparedness and for projects to support both the development of new or emerging disaster preparedness networks that include performing arts and culture organizations.

U.S. Small Business Administration (SBA)
SBA offers several different relief options to help businesses, nonprofits, and faith-based organizations recover from the impacts of COVID-19.
Shuttered Venues Operators Grant Program (SVOG) | Webinar Video
Paycheck Protection Program (PPP)
Economic Injury Disaster Loan (EIDL)
Express Bridge Loan
 
---
Resources for Individual Artists & Arts Professionals
Actors' Equity Assocation
Actors' Equity Association, the national union representing more than 51,000 professional actors and stage managers working in live theatre, has released the four core principals needed to support safe and healthy theater production.

The Actors Fund Emergency Financial Assistance
The Actors Fund has partnered with other entertainment industry organizations to provide emergency financial assistance to those in immediate financial need. Funds are available to union and non-union workers in entertainment and the performing arts.

Artists Relief
Artists Relief is giving out $5,000 grants to artists facing dire financial emergencies due to COVID-19. Applicants must be at least 21 years old and able to prove that they are practicing artists experiencing "dire financial emergencies" due to the pandemic. They must also provide a W9 and a Social Security number or Individual Taxpayer Identification Number.

Artists Relief Project
Artists who have been directly impacted by event cancellations and venue closures due to the COVID-19 pandemic are able to apply for financial support through the Artists Relief Project, funded by Artly World. The funds are distributed on a first-come, first-serve basis and applicants must be able to demonstrate that they're an artist by providing a resume or website link.

Arts and Culture Leaders of Color Emergency Fund
The Arts and Culture Leaders of Color Emergency Fund is intended to help those pursuing careers as artists or arts administrators whose income has been directly impacted by the COVID-19 pandemic. This fund is for those who self-identify as BIPOC (Black, Indigenous, People of Color) and is a one-time micro grant of $200.

CERF+ Emergency Relief Fund
CERF+ emergency assistance for artists includes grants and/or brokered assistance, such as booth fee waivers and discounts or donations on supplies and equipment.

COVID-19 Freelance Artist Resources
This list is specifically designed to serve freelance artists, and those interested in supporting the independent artist community.

The Crew Nation Fund
Live Nation has created The Crew Nation Fund to help support live music crews who have been directly impacted as shows are put on pause due to COVID-19.

Dramatists Guild Foundation Emergency Grants
DGF provides emergency financial assistance to individual playwrights, composers, lyricists, and librettists in dire need of funds due to severe hardship or unexpected illness related to the COVID-19 pandemic.

Foundation for Contemporary Arts COVID-19 Emergency Fund
The Foundation for Contemporary Arts fund provides one-time to experimental artists who have been impacted by the economic fallout from postponed or canceled performances and exhibitions. Applicants must be individual artists who can show proof that they've had an engagement postponed or cancelled due to the COVID-19 pandemic.

SAG-AFTRA COVID-19 Relief Fund
The SAG-AFTRA Foundation has created the COVID-19 Relief Fund that is now available to eligible SAG-AFTRA members who have been impacted by this pandemic. Emergency financial assistance is available for people who are unable to pay their basic living expenses
---
General Resources
New Jersey COVID-19 Information Hub
Call (General COVID-19 Questions): 2-1-1 (7a-11p)
Call (Clinical Questions): 1-800-962-1253 (24/7)
Text NJCOVID to 898-211 to receive alerts
PPE Wholesale Supplier Registry Public Listing
Governor Murphy's COVID-19 Briefings

New Jersey Business Action Center
Search for information on COVID-19's impact on businesses and individuals.
Recovery and Technical Assistance Survey

New Jersey Department of Labor and Workforce Development
Learn about New Jersey Unemployment Insurance and see if you're eligible for benefits.