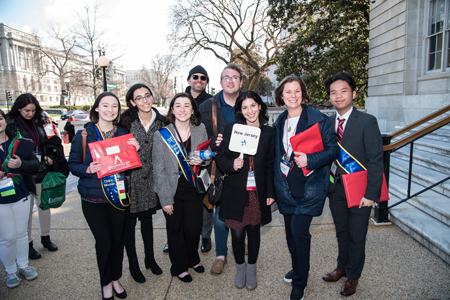 The National Arts Action Summit is your opportunity to receive crucial advocacy training from experts in the field and then put that training into practice. Hosted by Americans for the Arts in partnership with over 85 national arts organizations, the Arts Action Summit is the largest gathering of its kind, bringing together a broad cross-section of America's cultural and civic organizations. Grassroots advocates from across the country come to Washington, DC to meet with their members of Congress to garner support for issues like arts education policy, the charitable tax deduction, and funding for the National Endowment for the Arts.
Each year, ArtPride sends a delegation of advocates to represent the state of New Jersey through facetime with their legislators. 
The 2019 National Arts Action Summit Recap
New Jersey's group of 28 delegates joined hundreds of art advocates to visit members of U.S. Congress on March 4 and 5 for the National Arts Action Summit hosted by Americans for the Arts.   A full day of training was capped off by the inspiring remarks of  Rita Moreno, who delivered the Nancy Hanks Lecture on Arts & Public Policy at the Kennedy Center for the Performing Arts. Read the blog post for a full recap.