Arts Advocate is never a title I thought I would hear when someone described me. Growing up, I always enjoyed being in plays and watching a few musicals, but never once did I think I would be getting on a train to D.C. 1-2 times a year and talk to members of U.S. Congress about the importance of the arts. Hello! My name is Zach Bates. I am an alumnus of the Gloucester County Institute of Technology (2013) in Sewell, New Jersey and a volunteer Thespian Advisor for the school. I serve on the New Jersey State Thespian Board and wear many hats including Outreach Co-Chair, Fundraising Chair, and Safety & Security Chair, but the one I am most proud of is the position I started before this school year, Arts Advocacy Chair. Holding this title, I was selected to a national committee through the Educational Theatre Association's Advocacy Leadership Network as the New Jersey Representative. This year, I was named the Career & Technical Education Committee Co-Chair with the Georgia Representative. 
In the summer of 2017, I attended the first EdTA (Educational Theatre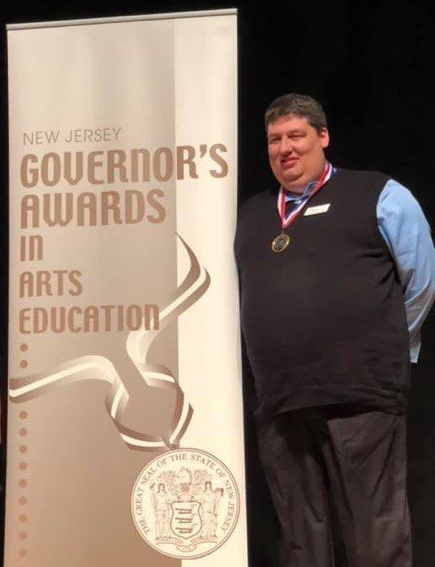 Association) Advocacy Day. Having some knowledge of politics and being a history major in college, I planned the visits for myself and three other N.J. representatives who attended the event. We attended a full day of workshops before going to Capitol Hill, and that's when I knew that I was meant to be an advocate. The first meeting with a member of Congress was nerve-wracking, but after that, it just came naturally to me. In all, I attended five different meetings.
That very October, I applied (and was the first one by far) for the Advocacy Leadership Network's second class. I was accepted, and the first big event was National Arts Advocacy Day, another first for me. I was very nervous at first to attend by myself, but then I met Ann Marie Miller from ArtPride New Jersey and we formed an instant friendship. Meeting Senator Booker and getting a selfie with him was an instant win. Those meetings at Arts Advocacy Day helped me decide to convince Carolyn Little from New Jersey Thespians to create an Arts Advocacy Chairperson for the organization. It was the best decision we've made.
This was the first year I invited elected officials to the N.J. Thespian Festival and it was an amazing experience. Assemblyman Adam Taliaferro (N.J. District 3) and Assemblyman Joe Howarth (N.J. District 8) attended and saw the work students were doing throughout the day. We had confirmation from State Senator Troy Singleton (N.J. District 7), but due to the snow and the time changes of festival, he was unable to attend. However, he is still one of the biggest supporters we have had and his assistant hand delivered the proclamation the senator planned to present in person. The working relationship between Senator Singleton and the N.J. Thespians remains a strong partnership going forward.
After the festival, it was off to my second National Arts Advocacy Day. This time, another chaperone and I brought 10 eager students to Washington for an experience that was both rewarding and challenging. I don't know if you have ever attempted to navigate 10 students through the glorious Metro system in D.C., but it's one of the most stressful things I have ever done. I was super thankful to have Ann Marie and Christine Petrini from ArtPrides my guides. I am also working on getting New Jersey Thespians recognized as an official Career and Technical Student Organization through the State of New Jersey. I am thankful to have ArtPride behind me and helping out along the way.
I am thankful and honored to be recognized at the N.J. Governor's Awards in Arts Education. Yesterday's ceremony was very special, and I am happy to have made so many friends along the way. This award isn't about the accolades, though. It's about helping the students and making their lives just a little bit better. I think it's safe to say that I am now an arts advocate.