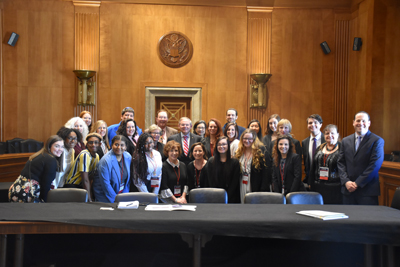 ArtPride works with elected officials, policy makers, community leaders, and collaborating partners to advance a public policy agenda that focuses on local, state, and federal issues of concern facing New Jersey's creative sector.
COVID-19 Related Policy Recommendations
Support S2800/A4233 which appropriates American Rescue Plan funds to support a more complete recovery of New Jersey's arts and culture sector. Visit https://artpridenj.org/actnow for more information.
Advocate for continued and increased support from private foundations and corporations for arts and culture recovery.
Support the New Jersey Arts & Culture Renewal Fund efforts to provide financial support for struggling small, mid-sized, and historically underserved cultural organizations.
Public Policy Agenda
Arts Organizations
Maintain annual cultural project appropriations for the New Jersey State Council on the Arts and New Jersey Cultural Trust
Maintain the New Jersey State Council on the Arts peer review panel process that assures impartiality & accountability.
Assure that public funding for arts and culture lessens barriers to access and provides opportunities for artists and programs that are historically underrepresented.
Preserve "Percent for Art" legislation that commissions public art in state buildings
Dedicate state funds to maintain and preserve public art.
Continue bipartisan support and robust funding for the National Endowment for the Arts (NEA) in the FY 2024 Interior Appropriations bill at no less than $211 million to broaden access to the cultural, educational, and economic benefits of the arts.
Support the Advancing Equity Through the Arts and Humanities Act to assist in addressing systemic racism through the arts and humanities in the United States.
---
Artists
Support the Performing Artists Tax Parity Act (PATPA), when reintroduced in the 118th Congress. PATPA will update and increase the income ceiling to $100,000 for individuals and $200,000 for married joint filers, allowing many more lower and middle-income performing artists to receive tax relief for work-related expenses.
---
Art in Communities – Public Value & Solutions to Social Issues​​​​
Conduct research on arts participation and economic activity (Arts in Economic Prosperity Studies)
Partner with the National Consortium on Creative Placemaking, Sustainable Jersey, NJ League of Municipalities and Housing & Community Development Network of New Jersey where possible.
Work with Destination Marketing Organizations throughout New Jersey to Increase cultural tourism in New Jersey
Encourage Cultural (Artist) Districts, cultural plan development, and arts inclusion in Municipal master plans
Continue support for NJ Mayors Committee on Arts & Culture.
Support Arts in Healthcare initiatives (Cultural Access Network, NJPAC Arts & Healing Program)
Support federal funding of $22 million in the FY24 Defense Appropriations bill to the Department of Defense's (DoD) Morale, Welfare and Recreation (MWR). The funding is designed to pilot a coordinated local public-private sector strategy for building a partnership between military bases in the United States and the local and regional arts agencies to expand opportunities for service members and their families to participate in the arts for their health and well-being.
---
Arts Education
Strengthen equitable access to arts education through the Well- Rounded Education provisions of the Every Student Succeeds Act (ESSA).
Support federal funding of the U.S. Department  of Education's Assistance to Arts Education program at $40 million.
Support the Arts Ed Now campaign to increase student participation in the arts
Advance STEM to STEAM arts integration initiatives
---
Individual Philanthropy
Support The Charitable Act to expand and extend the expired non- itemized deduction for charitable giving.
---
Have a question regarding our Public Policy Agenda? Contact Ann Marie Miller in our advocacy department.
Action Alerts  Research Arts Advocacy Toolkit
"Policy requires action to reach implementation and permeate down into our communities and arts programs – at both the grassroot and the grasstop levels. Through advocacy, we push for policy changes to be reflected in our laws. If you are an arts professional, you know the transformative value of the arts and you realize the potential of creating polices across disciplines that include art components." Americans for the Arts, americansforthearts.org