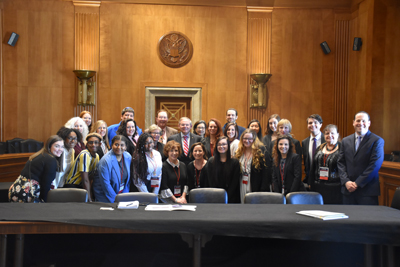 ArtPride works with elected officials, policy makers, community leaders, and collaborating partners to advance a public policy agenda that focuses on local, state, and federal issues of concern facing New Jersey's creative sector.
COVID-19 Related Policy Recommendations
This list of recommendations was adopted by ArtPride's Board of Trustees at their April 7, 2020 meeting and relates directly to arts advocacy needs from private and public sectors to support the state's arts community during the COVID-19 health crisis.
(State) Support formation of New Jersey Arts Relief Fund and inclusion of nonprofit arts in New Jersey Pandemic Relief Fund
(State) Support New Jersey state appropriations at "aspirational" levels of A3101 ($31.9m for cultural projects)
(Federal) Support increased relief funds for National Endowment for the Arts in future economic recovery and stimulus packages (currently at $75m from CARES Act)
Support the equitable distribution of economic recovery or stimulus finds for arts, cultural and humanities across the spectrum of organizational budget size and communities served
(Federal) Support increase of universal charitable deduction (currently at $300 from CARES Act), similarly, (State) support NJ charitable deduction (S264/A496)
(State) Support reduction/elimination of NJ state payroll tax
(Federal) Support continued inclusion of nonprofits and independent artists and sole proprietors in SBA loan criteria and (State) in EDA loan criteria
(State and Federal) Support pandemic unemployment benefits for workers ineligible for state unemployment benefits, to provide essential support for self-employed workers in the arts and culture sector.
(State and Federal) Support the continued conversion of government contracts and private foundation grants to general operating grants to mitigate earned revenue losses.
(State) Support A3844 that would instruct business insurance policies to consider emergency COVID public gathering restrictions as a covered business insurance claim.
(State) Support significant inclusion, and feature of, of arts and culture in any additional tourism and business promotional efforts launched during recovery

Public Policy Agenda
Arts Organizations
---
Artists
---
Art in Communities – Public Value & Solutions to Social Issues
Conduct research on arts participation and economic activity (Arts in Economic Prosperity Studies)
Establish Mayors Committee on Arts & Economic Development (NJ League Of Municipalities)
Seek funding and professional development opportunities for arts in redevelopment (New Jersey Redevelopment Authority)
Partner with the National Consortium on Creative Placemaking, Creative New Jersey, Sustainable Jersey
Increase cultural tourism in New Jersey
Encourage Cultural (Artist) Districts, cultural plan development, and arts inclusion in Municipal master plans
Support Arts in Healthcare initiatives (Art Matters NJ, Cultural Access Network) and Arts in the Military initiatives
---
Arts Education 
Promote the recommendations of the NJ Arts Education Census Project 
Support the Arts Ed Now campaign to increase student participation in the arts
Advance STEM to STEAM arts integration initiatives
---
Individual Philanthropy
Support deductions on NJ taxes for donation to all charitable nonprofit organizations
---
Have a question regarding our Public Policy Agenda? Contact Ann Marie Miller in our advocacy department.  
Action Alerts  Research  Arts Advocacy Toolkit 
"Policy requires action to reach implementation and permeate down into our communities and arts programs – at both the grassroot and the grasstop levels. Through advocacy, we push for policy changes to be reflected in our laws. If you are an arts professional, you know the transformative value of the arts and you realize the potential of creating polices across disciplines that include art components." Americans for the Arts, americansforthearts.org