ArtPride works throughout the year to ensure lawmakers and community leaders at the local, state, and federal levels are informed about the impact the arts have on the lives of New Jerseyans. Here are five actions you can take to support our efforts to advance our public policy agenda, whether as an individual or as organization, as well as some valuable tools to help you along the way.
---
Actions for Individuals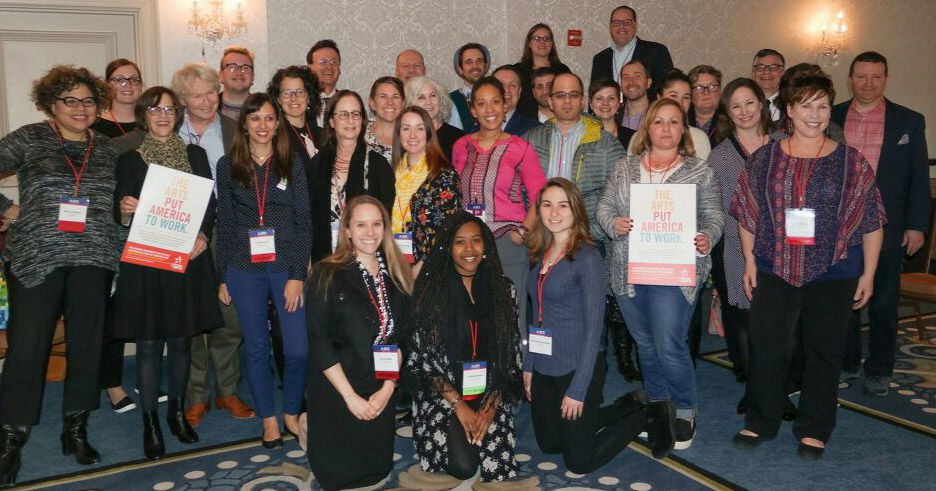 As a constituent, you are the ideal grassroots advocate to convey to elected officials how essential the arts and arts education are to your community. Without your help, your representatives may not realize the ability of the arts to create jobs, support local economies, and engage kids in school. Here are a few ways you can take action.
Sign Up For Action Alerts  Find Your Legislators  Legislative Tip Sheet  Letter Writing Tips  Donate 
---
Actions for Organizations
As an arts organization, your voice is important in communicating the impact of your work. We want to make it easy for you to engage, build relationships with your elected officials, and highlight the work you are doing in your community. Here are a few ways you can take action.
Invite your elected officials to your events.
Make a habit of sending invitations for exhibition openings, performances, educational workshops, and other events to your elected officials. If possible, invite them to give brief remarks. Download this sample invite as a guide. Remember to follow-up on your invitation with a phone call to their office. If they are unable to attend, use this as an opportunity to ask for an in-person meeting.
Communicate the importance of any grant funds you receive.
If you receive a county, state, or federal grant, be sure to let your representatives know what a difference those funds make for your organization and your community.
Help spread the word.
ArtPride coordinates messaging campaigns throughout the year to promote the public value of the arts. Use the tools we provide to help spread the word to your audiences through email, traditional and social media. 
Join us for NJ Arts Advocacy Day in DC.
Receive advocacy training from Americans for the Arts and then join us as we meet with federal elected officials in D.C. to garner support for arts in the New Jersey. 
Join ArtPride today.
ArtPride welcomes organizations of all shapes and sizes to join our community of arts champions. Our advocacy efforts in Trenton and Washington, D.C., support the sustainability of the arts industry, giving a legislative voice to cultural groups.
Find Your Legislators  Legislative Tip Sheet  Messaging Calendar  Arts Advocacy Day in DC  Join ArtPride
---
Important Facts
Why are the arts important to New Jersey?
The nonprofit arts generate more than a half billion dollars to our state's economy, employ nearly 19,000 of its citizens, and transform sleepy towns into vibrant communities. As a critical component to education, the arts provide skills that prepare students to become 21st century leaders. Use this data to help make your case for why the arts matter to New Jersey.
Why are NJ Hotel/Motel Tax dollars important to arts, history, and tourism?
Cultural activities and tourism promotion are supported only through a dedicated revenue source that is the New Jersey Hotel/Motel Occupancy Fee (P.L. 2003, c. 114). This legislation established a certifiable and renewable source of revenue for the New Jersey State Council on the Arts, Cultural Trust, Historical Commission, and Division of Travel & Tourism. New Jersey taxpayers DO NOT pay for public support of these industries through property, sales, or income tax. Use our fact sheet and talking points to drive this message home. 
Is my nonprofit allowed to advocate?
Learn about how your nonprofit can advocate effectively and what you can say legally as an organization. Check out the rules of the road when it comes to the differences between advocacy and lobbying as well as understanding Congressional gift rules.
How can I get involved in National Arts in Education Week?
National Arts in Education Week is supported by Americans for the Arts on behalf of the field of arts education to bring visibility to the cause, unify stakeholders with a shared message, and provide the tools and resources for local leaders to advance arts education in their communities. As a local partner, find ways to celebrate the transformative power of the arts in education.
How can I get involved in National Arts & Humanities Month?
October is National Arts & Humanities Month (NAHM), a coast-to-coast collective recognition of the importance of culture in America. Whether you've participated before or want to get involved for the first time, there are lots of ideas to help you celebrate. Find tools, from event ideas to promotional tools and resources, to spark your imagination and get the word out.
How can the arts partner in creating a sustainable future?
Sustainable Jersey is a certification program for municipalities in New Jersey that want to go green, save money, and take steps to sustain their quality of life over the long term. Learn more about how the arts connect to cultural vitality and a sustainable community.