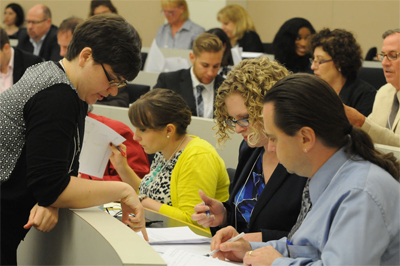 ArtPride is dedicated to providing quality and meaningful professional development opportunities for arts professionals and the creative community. Whether you're new to the industry or have years of experience, we offer numerous opportunities throughout the year to expand your skill set and knowledge base while networking with your colleagues in the field.
---
Advocacy 101 and NJ Arts Advocacy Day in DC
ArtPride, along with arts advocates from around New Jersey, heads down to the nation's capital each Spring to meet with federal elected officials to garner support for arts in the State.
In preparation, Americans for the Arts holds an Advocacy 101 Webinar. Learn how you can advocate for the arts on the local, state, and federal levels both as an individual and an organization. Hear from arts advocacy veterans on tips and tools to make your work as effective as possible.
---
New Jersey Arts and Culture Administrators of Color
New Jersey Arts and Culture Administrators of Color (NJACAC) is a network of professional arts administrators of color dedicated to advancing efforts related to equity, diversity, and inclusion within New Jersey's arts community. This initiative is a partnership between New Jersey Theatre Alliance (NJTA), the state's service organization for professional producing theatre companies, ArtPride New Jersey, the state's largest arts service and advocacy organization, and New Jersey State Council on the Arts.
---
Thrive Arts Conference
Hundreds of executive, marketing, and development professionals from arts organizations statewide converge on Princeton University for our biennial June arts conference. Produced in partnership with the Lewis Center for the Arts and New Jersey State Council on the Arts, Thrive has grown into the largest professional development event dedicated strictly to confronting the challenges and opportunities facing New Jersey's cultural community.
---
The Creating Change Network
The Creating Change Network is a collaboration between New Jersey Theatre Alliance and ArtPride New Jersey, with a mission to build a more equitable, just, accessible, and anti-racist arts community in New Jersey. It offers ongoing opportunities for learning and collaboration to move the arts sector forward. The Creating Change Network is committed to the long-term endeavor of shifting culture, empowering leaders, sharing strategies, ensuring accountability, and sustaining hope so that individuals and organizations can progress in this work. 
---
Jersey Arts Marketers (JAM) Network
In partnership with the New Jersey State Council on the Arts, ArtPride convenes meetings of marketing, public relations, and development professionals from New Jersey-based arts organizations throughout the year. A leadership team from each regional JAM group (North, Central, and South) works with staff to address common challenges, coordinate cooperative marketing programs, foster advancement through peer-based learning and invited guest speakers, and shape the direction of our audience development programs.  
---
ArtPride Webinars
Join ArtPride for the next in our series of FREE webinars. Tune in for an advocacy update and get the latest details on ArtPride's ongoing programs and services related to audience development, promoting public value, and community engagement.
---
ArtPride Annual Membership Meeting
Each year, ArtPride convenes arts professionals from across the state to engage our members in advocacy work, review the impact of our programs and services, and network with one another. Leaders from the business, philanthropic, education, healthcare, civic, government, and nonprofit sectors are invited to share success stories and case studies in implementing the arts as part of the solution to challenges facing New Jersey.
---
New Jersey State League of Municipalities Conference
ArtPride hosts a booth every year at the NJ State League of Municipalities Conference. Bringing arts-related topics to the forefront of the conversation with municipal and community thought leaders impacts the public value proposition of the arts and illustrates ways local communities can implement creative placemaking, community revitalization projects, and other arts-driven projects to improve their towns.