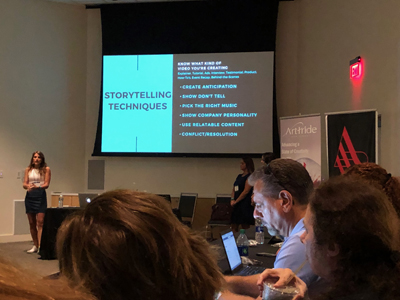 The Jersey Arts Marketers (JAM) is a regional group of marketing, public relations, and development professionals from New Jersey-based arts organizations that work cooperatively toward furthering the Discover Jersey Arts (DJA) program's statewide audience development goals.
 
To be a part of the JAM network, an arts organization must meet at least one of the following criteria:

If you do not currently meet these criteria, we invite you to join ArtPride today and start taking advantage of JAM and our many other member benefits.
Each regional JAM group (North, Central, and South) meets regularly throughout the year to address common issues, foster professional development, and coordinate ongoing cooperative programs. Through JAM's input and collaboration, we strive to further develop DJA as a resource for both the arts community and its patrons.
Participation is open to representatives from all eligible groups and active member organizations benefit from promotional opportunities on JerseyArts.com, eligibility for numerous cooperative marketing programs, professional development workshops, and in-person networking.
Stay connected with your colleagues in between meetings!


JAM Leadership Committee  JAM Programs and Services  Upcoming JAM Events