New Jersey's group of 28 delegates joined hundreds of art advocates to visit members of U.S. Congress on March 4 and 5 for the National Arts Action Summit hosted by Americans for the Arts.  A full day of training was capped off by the inspiring remarks of Rita Moreno, who delivered the Nancy Hanks Lecture on Arts & Public Policy at the Kennedy Center for the Performing Arts.
Early on March 5, the New Jersey team met in the Senate Foreign Relations Committee Room with Senator Bob Menendez and staff from his office and Senator Cory Booker's office. Several in the group had an opportunity to tell personal stories of how funding from the National Endowment for the Arts helps assist their organizations. For instance, coLAB Arts in New Brunswick works intensively with artists in communities, and programs like the Arts Access Program at Matheny enables severely disabled clients to express themselves creatively through visual and performing arts.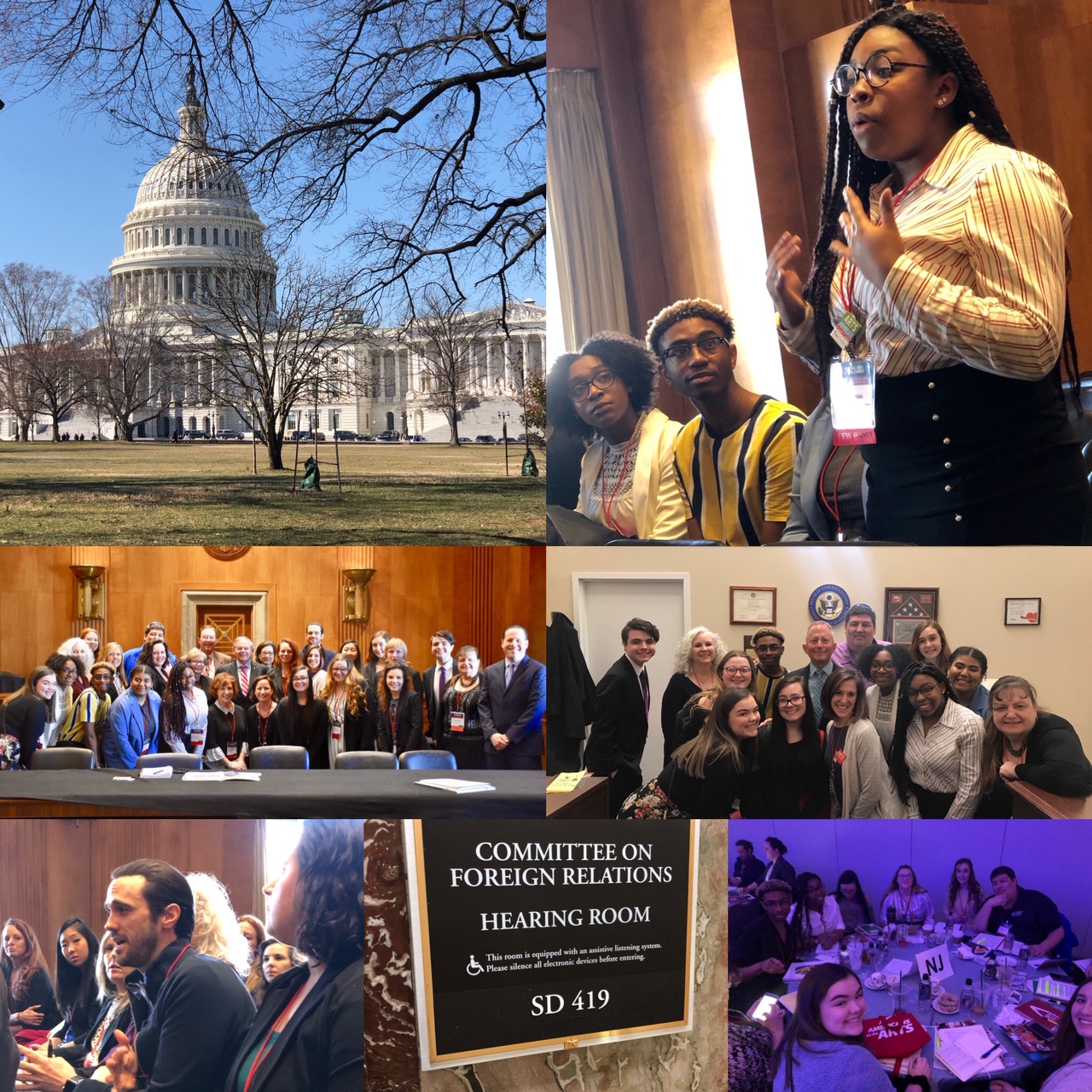 The rest of the day was spent visiting members of the U.S. House of Representatives in all 12 New Jersey districts. Small groups met with staffers to reinforce policy requests, including $167.5 million in federal funds for the National Endowment for the Arts, $40 million for arts education programs in the U.S. Dept. of Education, and support for a universal charitable deduction. Arts advocates also informed members and staff of concerns about protecting wireless technology for the arts through the Federal Communications Commission (FCC).
Weather in our nation's capital cooperated nicely for the repeated climb up the hill, and this year New Jersey's team had the pleasure of welcoming nine students from the drama department at Gloucester Institute of Technology to the delegation. The students and their chaperones met with newly elected Congressman Jeff Van Drew (D-Dist. 2) to discuss arts policy issues and relay personal stories of how their theatrical studies impact their lives.
There is still time to contact your members of U.S. Congress to support federal funding and cultural policy issues. Visit the Arts Action Fund to send an email, and if you are interested in attending an in-district meeting with a member who represents you or your organization, please contact Ann Marie Miller at ArtPride.
A special shout out to our delegation members: Elise Brancheau and John Keller of coLAB Arts; Jade Cintron; Noreen Scott Garrity of Rutgers-Camden Center for the Arts; Allison Hall of Student Advocates for the Arts at Teachers College, Columbia University; Connie Isbell of Monmouth Arts; Eileen Murray, Haeree Park, and Heather Williams of the Arts Access Program at Matheny; Grace Reff of Peters Valley School of Craft; Bianca Shulaker of the Trust for Public Land; Steve Steiner of Surflight Theatre; Sarah Walko of Visual Arts Center of NJ; Kayla Votapek of Crossroads Theatre Company; and Zach Bates, Theresa Kerney, Allyn Daniels, Kendall DeVecchis, Kristen Flatley, Mikalya Gilham, Bria Hart, Camron McCormick, Jordan Moore, Braden Snyder, and Oliva Tighe of the CGIT Drama Department; and Ann Marie Miller, Adam Perle, and Christine Petrini of ArtPride New Jersey.