Photo above: Designer Nina Cooke John and assistant Adebunmi Gbadebo stand with the Harriet Tubman Monument (Photo by Rachel Fawn Alban)
The city of Newark, New Jersey unveiled its long-awaited Harriet Tubman monument March 9 with great excitement. Four days of community celebrations and events followed. With visual, audio and tactile components, "Shadow of a Face" is not a statue to view from a distance, but a place to see, hear, touch, spend time and reflect on stories. Designed by Jamaican-born, Montclair-based Nina Cooke John, this unique public art project will be visited, studied, and celebrated for years to come.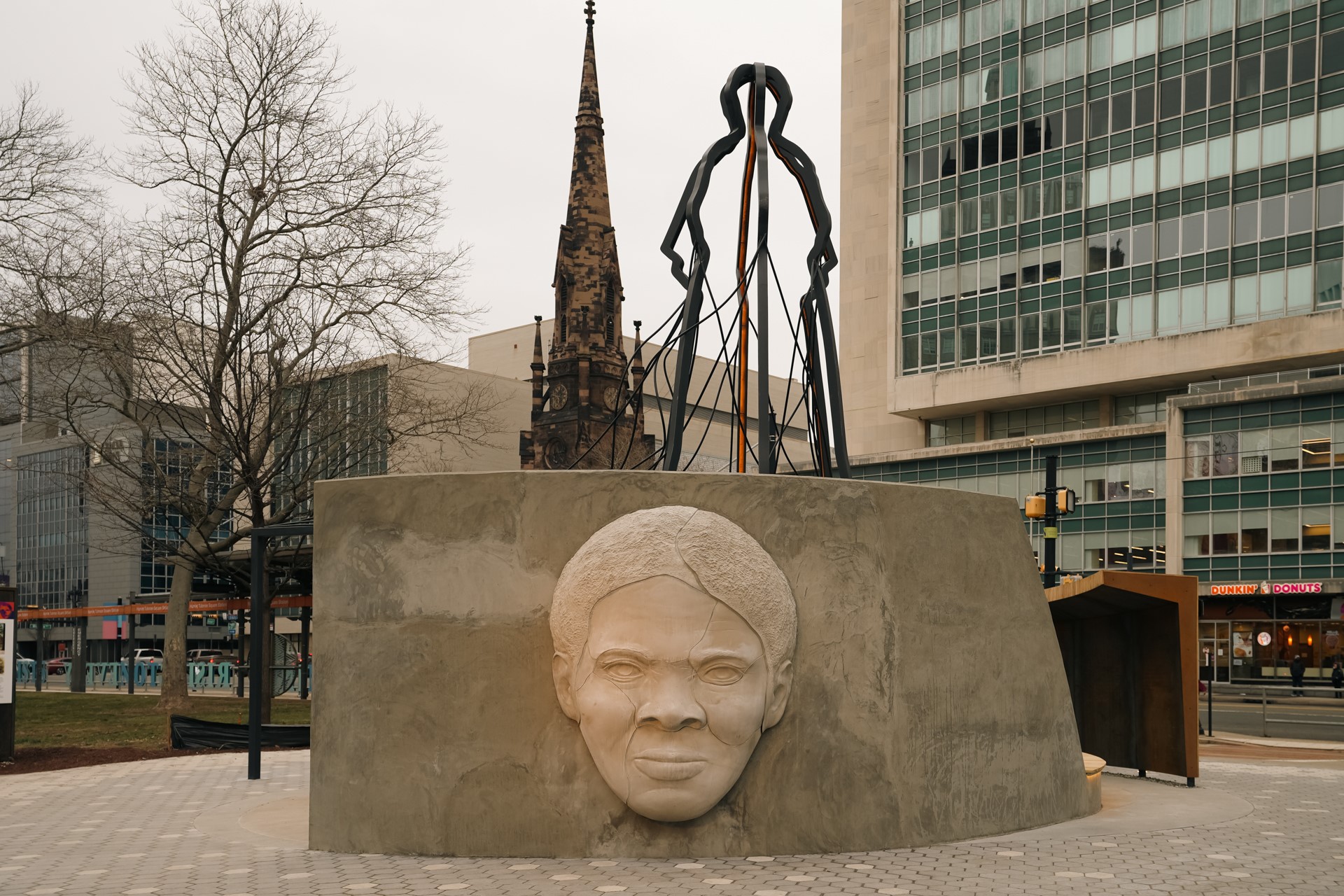 Nina Cooke John's design was chosen by a 14-member Harriet Tubman Monument Selection Committee out of dozens of submissions responding to a national request for proposals. "We could have just done a statue – but with this project we wanted to reimagine what public art could be," said fayemi shakur, Newark's Arts and Cultural Affairs Director, who oversaw the project. "Nina's design was chosen because of her intentional, thoughtful ideas about engaging community. We also considered the challenges that other cities have had with community engagement."
Harriet Tubman's likeness is portrayed in two ways on the monument: a larger-than-life concrete portrait of her face at eye level, facing into the park, and as an abstracted, cloaked figure rising over 25 feet tall, visible from all directions. "She needed to be seen from far away… and there are multiple statues still in the park which are all men, so she really needed to be elevated to her rightful place of honor as we give her due praise for her achievements - not only as a conductor in the Underground Railroad, but also as a Union spy, suffragette and humanitarian for Black causes," said Nina Cooke John at the unveiling ceremony. "But we can never fully know her. Much of the stories of enslaved people died with them… Nor should we ever elevate our heroes such that they're not understood as being human. Because it is in their humanity that we see ourselves." Much of the fabrication and installation of these large-scale components was done by Ferrous Research & Design, a team led by Gardenship.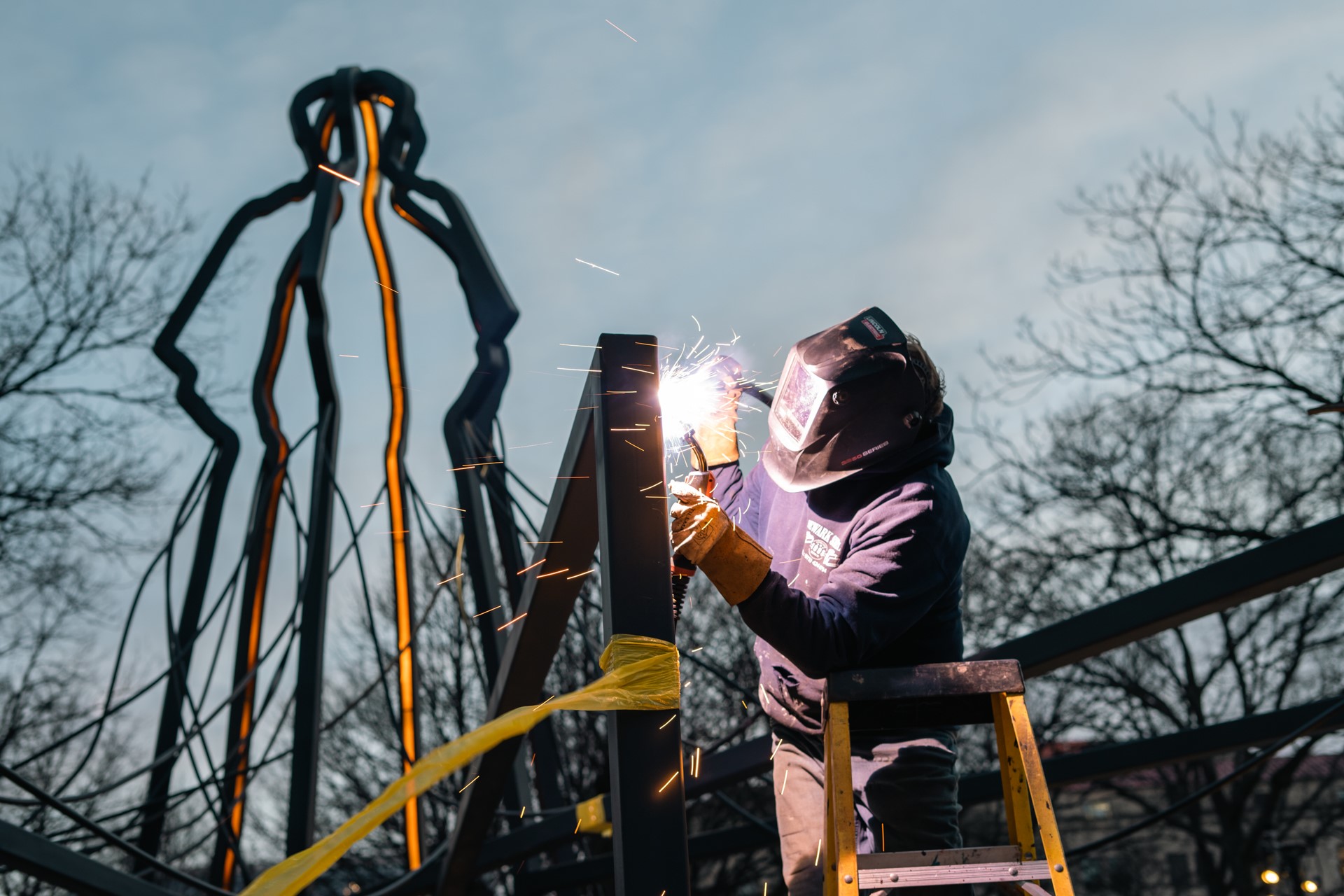 Newark-based artist Adebunmi Gbadebo was hired as an apprentice to assist with community engagement throughout the project. "Harriet Tubman risked her own freedom to free others. She is the definition of a community leader," Gbadebo said after the unveiling. "We can think of how her legacy transcends to our modern day when we consider, 'Are we free if so many of Americans don't have access to clean water, housing, proper education and health care?' I think her legacy goes beyond just Black bodies and is something that all of us Americans should aspire to. Our goal as Americans really is to make every single citizen of this country free, in all forms."
While planning the workshops, Cooke John and Gbadebo considered how to use artmaking to connect the community to the stories of Harriet Tubman in a more personal way. "We developed a set of prompts to help community members make personal connections. Questions like: what is your North Star? What is something you feel liberated from? What is something you struggle with and overcame?" says Gbadebo. These prompts were used in a series of public tile-making workshops and audio recording sessions – creating content that was incorporated into the monument.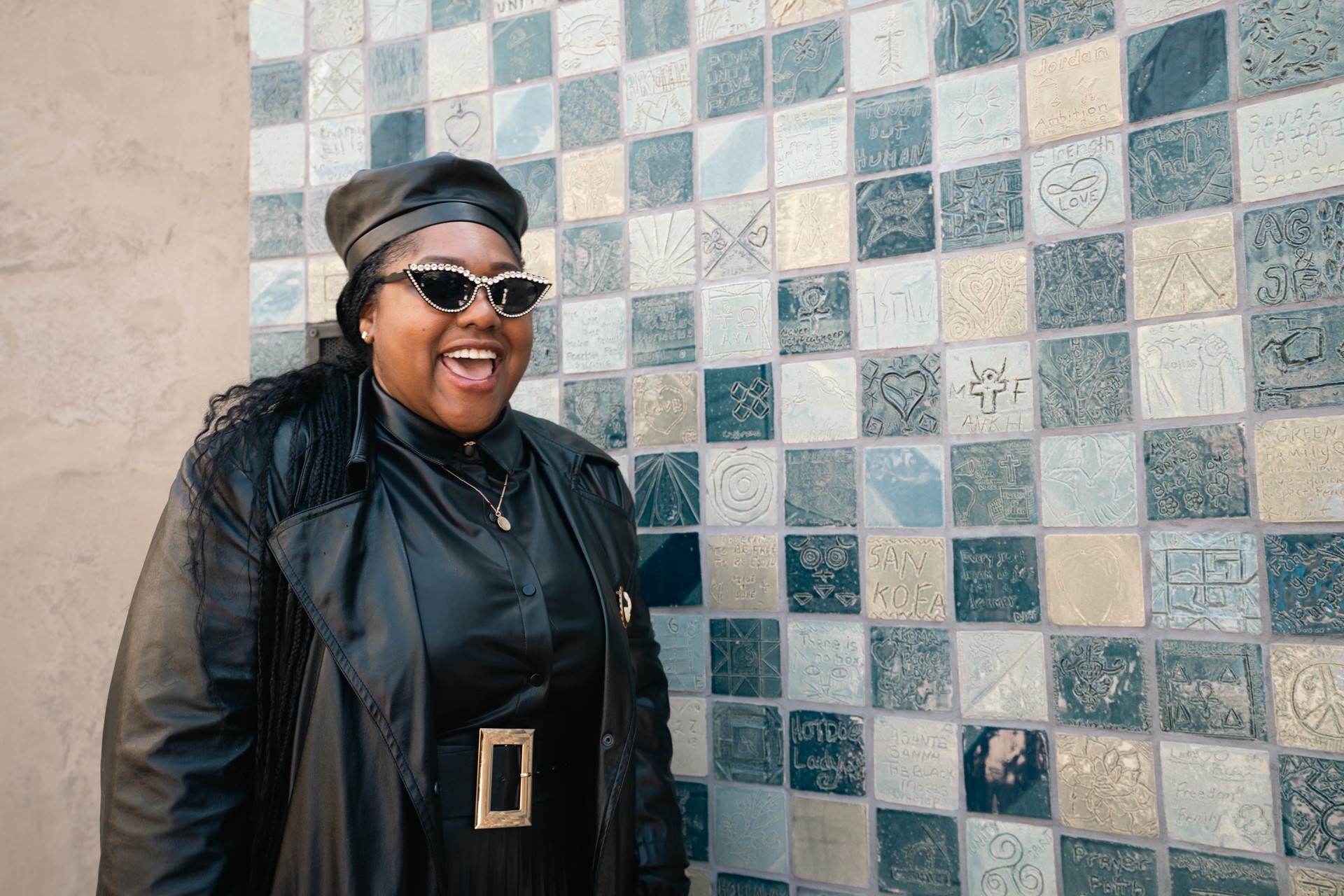 For the tile-making workshop, clay squares were prepped by Gbadebo and the education team at the Newark Museum of Art in their on-site ceramic studio. Workshops took place at the museum, the Newark Public Library, and arts organizations throughout Newark. The tiles were returned to the museum for firing and glazing. 498 tiles made during these workshops now comprise a gorgeous, blue-toned mosaic on the inner wall of the monument.
The experience impacted Gbadebo's philosophy on public art making. "Bringing the community into this monument to be memorialized and seen in this way is an example of how artists, designers, architects can create practices that are inclusive - that don't just force communities to respond and react to public art," she said, "but literally invite them into the process and be a part of the changes happening within their communities."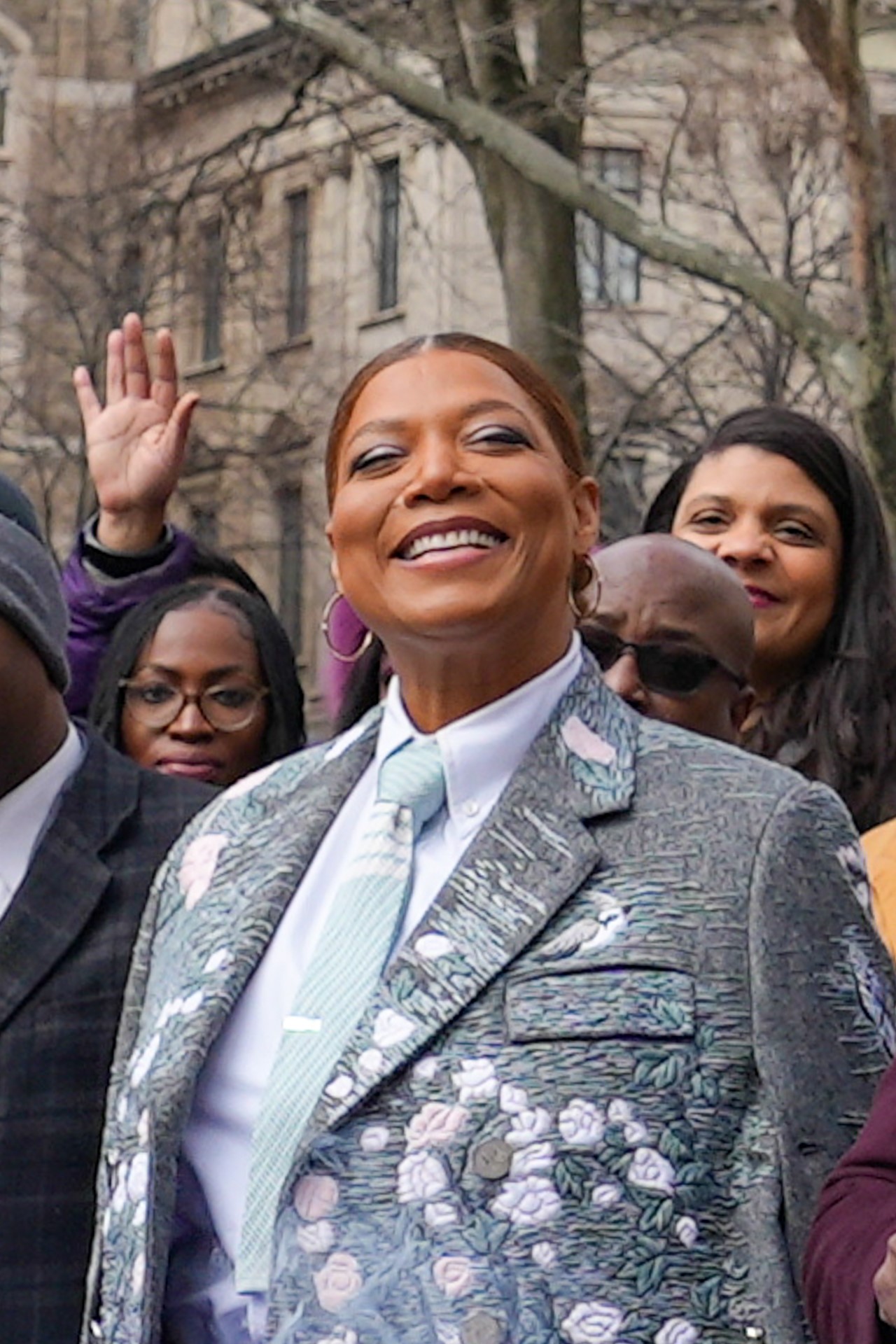 Immersive audio accompanying the monument features the stories recorded at the public workshops. This includes stories of Newark residents and their connection to the area, interspersed with narrations by a famous voice. Produced by Audible, the audiobook company headquartered in Newark, this piece, titled "Monumental: Harriet Tubman and Newark's Liberation Movement," was created by Newark native Pia Wilson and performed by Newark native Queen Latifah. At the unveiling ceremony, Latifah, a rapper, singer and actor said, "We hope that 'Monumental' brings Harriet Tubman's resistance and integrity to people everywhere who really need to hear it. We want people to know, to feel, to understand what was at stake and how incredibly brave Harriet Tubman was."
Facing the mosaic wall is a circular learning wall inscribed with stories of Tubman's life and the history of Newark's Black liberation movement. Local historians, Dr. James Amemasor, Noelle Lorraine Williams and Dr. Linda Caldwell Epps were commissioned to provide historical research for the project. The historians trained docents and educators from the Newark Museum, which will be incorporating the monument into museum tours and public programs. The museum also developed a curriculum guide based on objects from the Museum's collection and the recently installed Harriet Tubman Monument. The guide encourages students to think critically about Abolitionism, one of the most significant social movements in American history. Local artists and arts groups have been commissioned to develop programming inspired by the monument.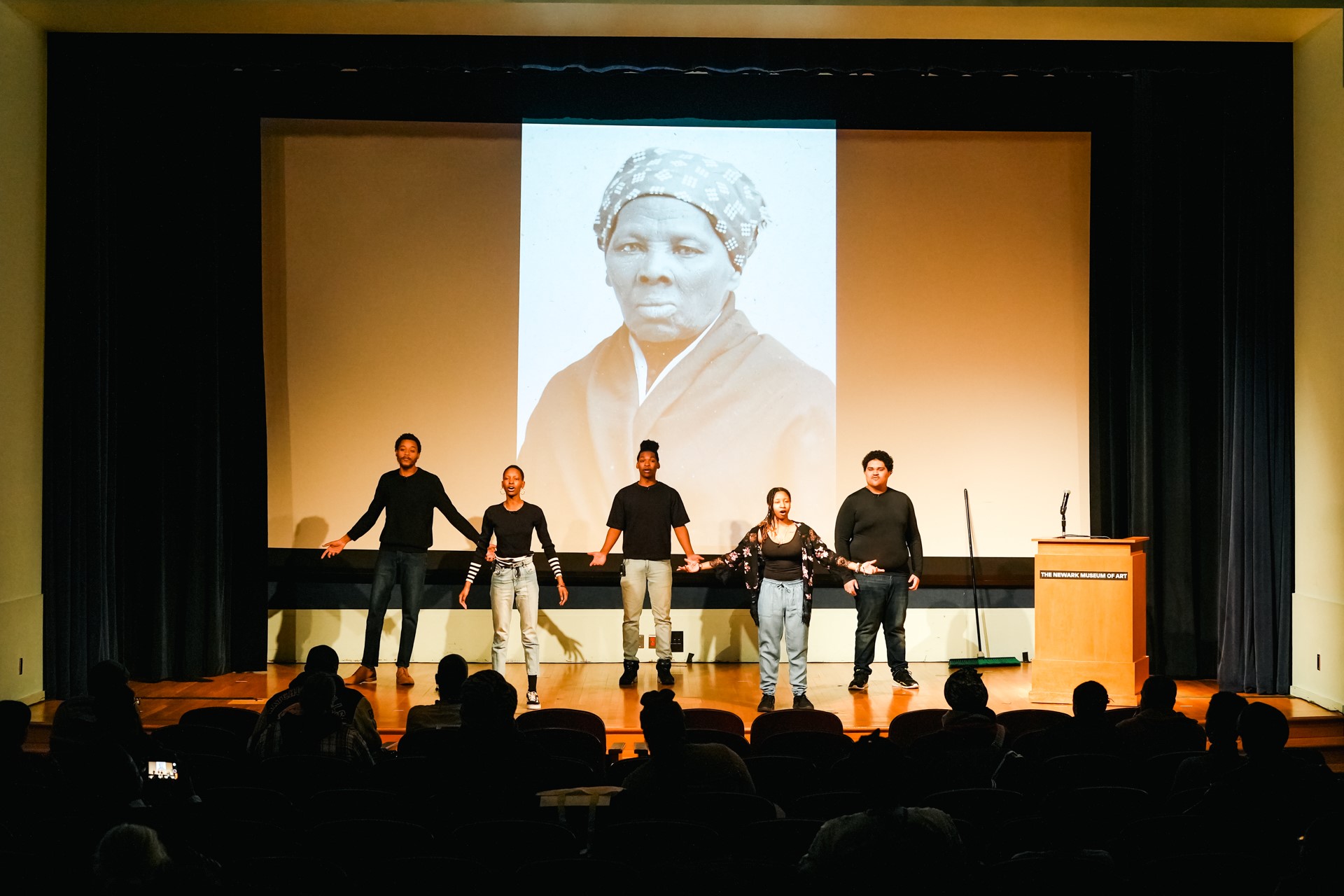 Yendor Theatre Company, which specializes in visual and performing arts, worked with youth to create a devised performance that debuted at the Newark Museum of Art's Community Day. "I feel a spiritual connection to something bigger than us. Hundreds of years from now, people will visit Tubman Square," said Andrew Binger, Artistic Director of Yendor Theater Company. "I think about how important it is to learn from our ancestry – including Yendor's founder Rodney Gilbert, who is now an ancestor. One lesson we can learn from Harriet Tubman is the importance of community and supporting one another. On her own, Harriet Tubman was able to escape slavery into freedom. Significantly, she decided to go back and lead more people to freedom. Not one of us is free until all of us are free. That includes all of us who face oppression because of race, religion, identity, sexual orientation or gender. How do we work together so that we all experience freedom and liberation? Our young people explore and embody these questions with their performance piece."
Dr. Silvia Filippini Fantoni, Deputy Director Learning & Engagement, Newark Museum of Art says, "I've been in the museum sector for 20 years and I've done infinite number of exhibitions and programs, but I've never experienced something that was so transformative for a community. To see what it means for Newark, and for the people of Newark to see themselves in the monuments, see themselves in works of art, claiming their space, is great. Exhibitions come and go, some people connect, some people don't, but they are rarely so personal. With this project, the people are a part of it and a part of history. I never felt a sense of community as strong as I feel in this place."