At The Center for Contemporary Art ("The Center") in Bedminster, we proudly declare on our website that we, "recognize the diversity of our community's abilities and needs and are committed to enabling all people to experience the benefits of arts education." We offer seven year-round programs that provide an outlet for creative expression in a safe, supportive setting for children with Autism Spectrum Disorder, at-risk youth, adults with disabilities, people affected by cancer, and senior citizens. In 2009, The Center (then known as the Somerset Art Association) launched its first art outreach program, which was a class for children with Autism Spectrum Disorder and other special needs.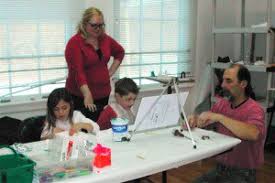 The class was developed in response to a request for art programming from Bernards' Parents of Exceptional Children, a local parent group. What began as a once-per-year class eight years ago, today is offered year-round for two age groups and this year will include two-month-long summer programs. The classes provide access to art experiences to an underserved population, cultivate new avenues of self-expression for students with limited verbal communication, develop creative and visual spatial skills, imagination, and abstract thinking and provide opportunities for social engagement. In the words of Jim Pruznick, an instructor for the program:
When people have special needs, caregivers often feel obligated to make decisions on their behalf. A common exception is participating in an enrichment activity like art, which is relatively risk-free. Taking an art class affords the opportunity to practice decision-making skills.
Selecting an image to develop, composing how eye travels over the picture plane, exploring dynamics of color, responding to how others react to the image, and considering an appropriate title exemplify skill building inherent in the process of art-making.  Concentrating on facilitating the student's preferences reinforces the emphasis to follow their own vision and be the "boss of their picture."  As a result, tangible benefits have been observed. Students feel empowered by the experience.
Further, the mother of one of our students had this to say:
We share with every country the universal language of art, music, theater, and dance, and all of us are privileged to have one or all of these part of our past, present, and future. The arts give a sense of spirit, connection, and forms memories that last a lifetime. Children with special needs are able to experience art the same way, and, in some children, the arts is the one thing that helps them feel connected to the world.  They are able to communicate through art. They are able to express themselves and develop their inner strengths.  This in turn gives them a sense of pride and self-worth. The arts simply make them happy.
A child with autism that has the disability of being non-verbal has taken the special needs class for two springs with The Center for Contemporary Art. He tells a story with his work. He speaks with color and texture, he expresses emotion, he feels connected and you can see in his face, how proud he feels.  This is the very best kind of "therapy." Natural, accepting and loving therapy.
We are proud of the program we have developed for children with Autism Spectrum Disorder and have begun to plan for an expansion that would include sequential learning opportunities, classes in a specific medium such as ceramics, parent programs, mentoring, and a gallery tour program.