On July 15th, The New Jersey Emerging Arts Leaders held three simultaneous events to celebrate Bastille Day, and get to know each other a little better.  A program of ArtPride New Jersey and a chapter of the Americans for the Arts Emerging Leaders Network, NJEAL strives to identify and cultivate the next generation of arts leaders and artists through professional development and peer networking opportunities on the state and regional level.  Through these efforts, NJEAL works to improve the field, strengthen inter-generational communication, promote partnerships and highlight New Jersey's arts organizations.
The Network targets arts professionals, including early-career arts administrators, current students and professionals entering the field as a subsequent career, who are under 35 years of age or with less than 5 years experience in the field.  NJEAL also hopes to develop stronger mentorships and relationships so older and more experienced arts professionals are welcome to get involved too!   
Being a statewide chapter definitely has its challenges, with traveling a few hours to an after-work networking event being high on the list.  To overcome that obstacle, the NJEAL decided to host these three networking events, at the same time, with a virtual component to tie them together.  To celebrate Bastille Day on July 14th, our emerging leaders were encouraged to don their best French moustache, with prizes given to the most suave.  The NJEAL Facebook page and Twitter offered insights and photos all night long, from each location, so even if you weren't able to join the party physically, you could be there in spirit!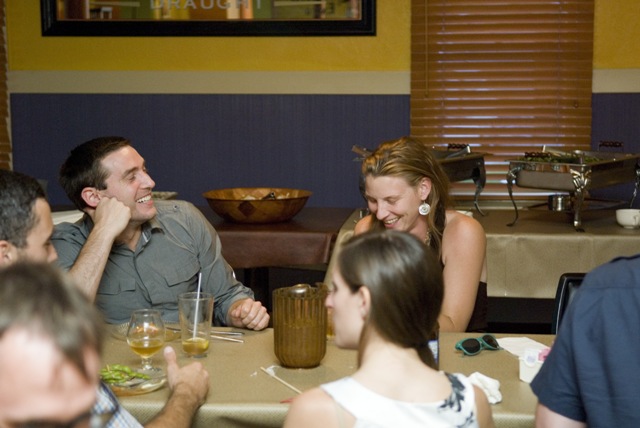 #NJEAL South was held in Hammonton, a great little town that is truly embracing all that the arts can offer a community.  After meeting for a quick introduction and toast in the brand new wine lounge at The Eagle Theatre, the crowd moved the soiree over to Rocco's Townhouse for some yummy food and drink while taking the time to learn more about the people and organizations in South Jersey.  The arts in South Jersey offer much but face many challenges as well, such as rural vs. urban audiences and competing with all that Philadelphia has to offer, so we focused a bit on the need to build a fabulous foundation upon innovative relationships and partnerships.  It was a pleasure to meet our gracious hosts The Eagle Theatre, as well as new friends from The Levoy Theatre, Cape May Mid-Atlantic Center for the Arts, the Long Beach Island Foundation of the Arts and Sciences, and Appel Farm Arts & Music Center.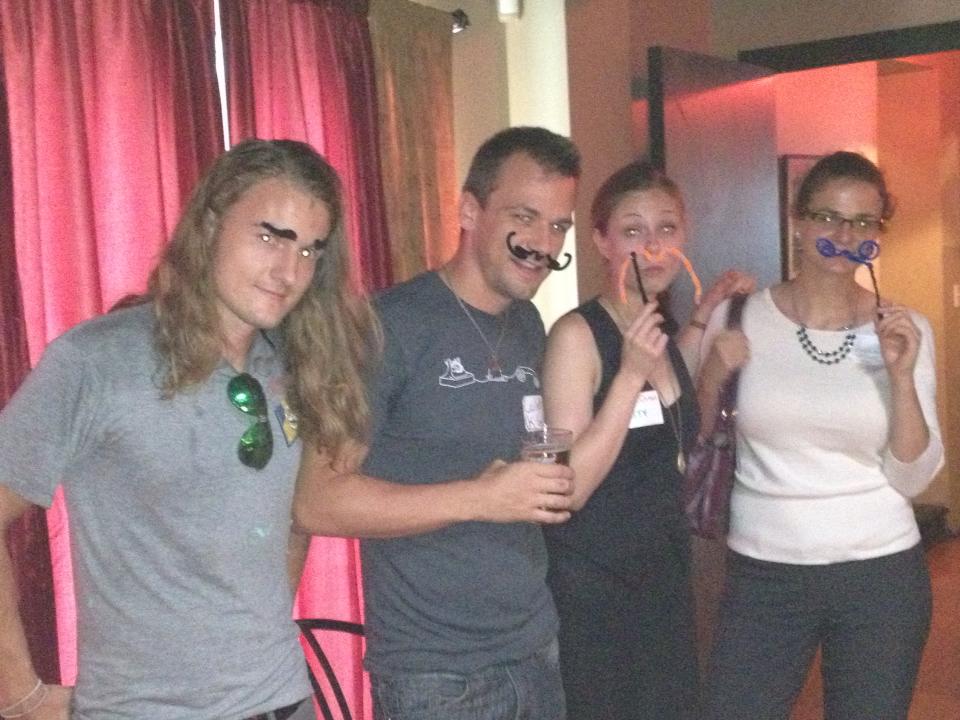 With a secret password to get you into the back room at Trenton Social, #NJEAL Central played up a bit of the French Resistance Movement, and the moustaches were fabulous.  Being as there's been so much civic and social engagement, arts explosions and innovation in Trenton right now, this team was certainly prepared to storm the proverbial castle!  One of these creative ELs is launching a toy he invented at a chain of stores in Canada.  There were discussions about the importance of connecting with our communities in meaningful ways and breaking down the "elitism" barrier.  From an arts program at a local soup kitchen to a success story about a shore community mural/visual arts program that went from a tiny budget to a $300K operation in many districts, it is obvious how vital New Jersey's art is to our communities.  There were several freelance artists as well as representatives from Passage Theatre Company, NJTV, the Trenton Area Soup Kitchen, McCarter Theatre, the Downtown Trenton Association, Two River Theater Company, Aljira Center for Contemporary Art, the Trenton Area Music Club and the SAGE Coalition.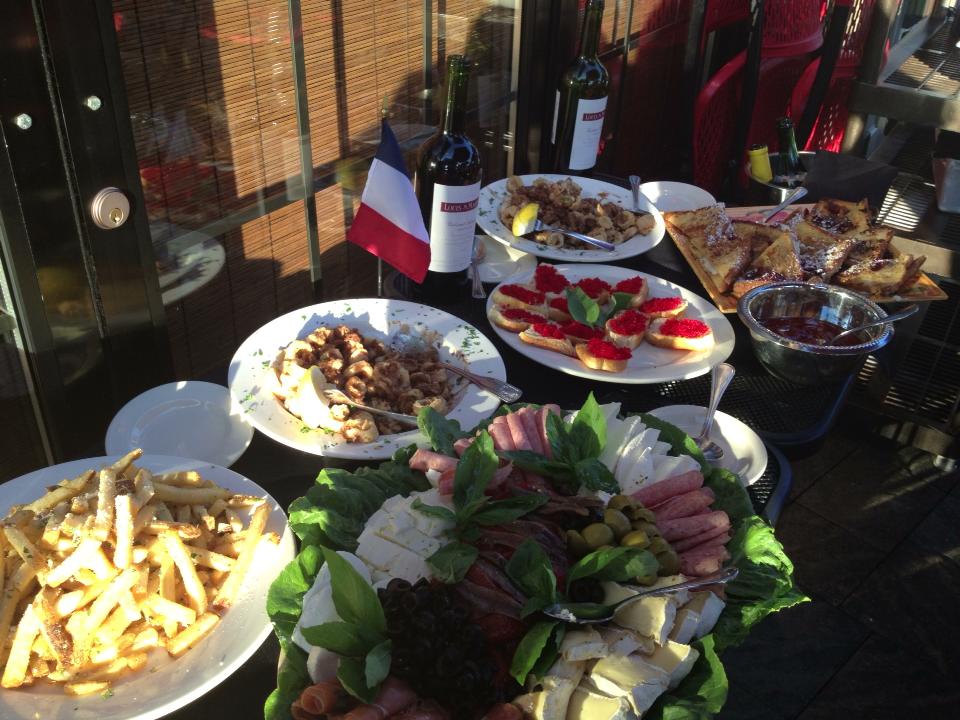 #NJEAL North had a fantastic spread of "French" food at The Brick Oven of Morristown!  The event took place on the patio, directly next to the Mayo Performing Arts Center and began with drinks and great conversation, and ended with a tour, brief history and future projects of the Performing Arts Center.  Even the music was "French", with a Claude Debussy playlist for the first part of the evening, and eventually Wyclef Jean, Les Nubians and MC Solaar as the night progressed. Perrier, water, champagne, wine were served, and the food was a culinary delight, including caviar on baguettes, fresh meats and cheeses (Charturie), balsamic calamari, French fries with garlic and parmesan (Yankee Stadium Fries), and Pain Perdue (French Toast with chocolate and cream).   
Some of the North Jersey organizations that were represented include Mayo Performing Arts Center, NJ Ballet, the Centenary Stage Company, Montclair Art Museum, Carolyn Dorfman Dance Company, as well as various local artists of several mediums.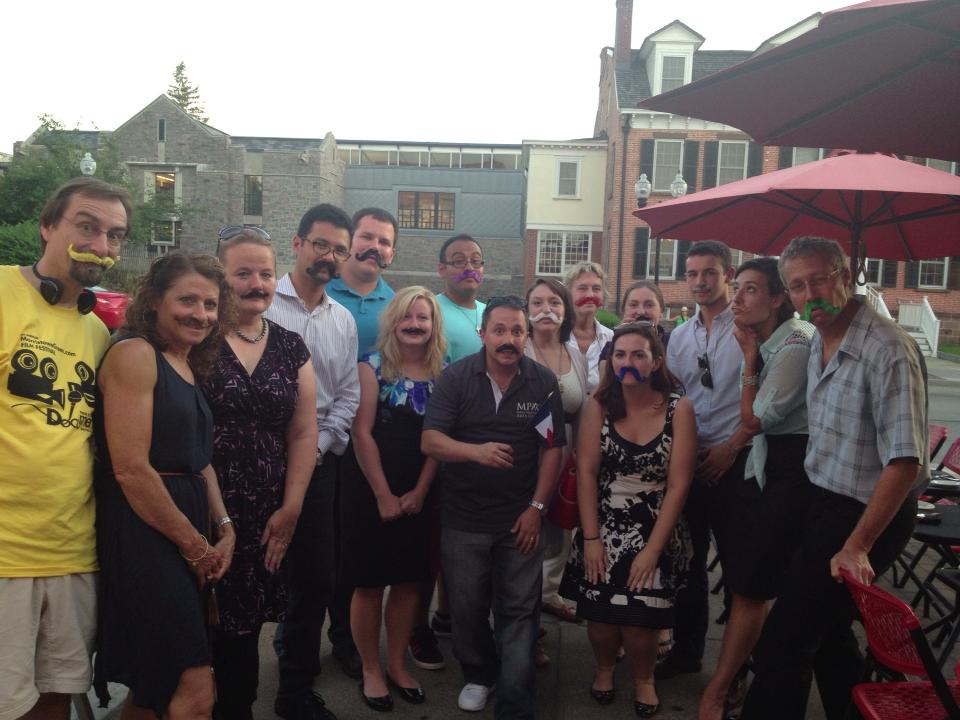 The New Jersey Emerging Arts Leaders would like to say merci to everyone who came out to celebrate with us, and we hope we can continue to build bridges between our regions and our organizations while encouraging emerging artists and administrators in their careers.
And if these folks sound like your kind of folks, the ones that you'd like to network and collaborate with, be sure to complete our membership application to receive all of our latest information and up-coming event announcements!  And be sure to check out all of our great photos, from all three events on Facebook!