In 1860, Florence Nightingale recognized the profound effect "beautiful objects" have on sickness and recovery. "Little as we know about the way in which we are affected by form, by color and light, we do know this – that they have an actual physical effect," Nightingale wrote. Studies have confirmed Nightingale's instinct. Infusing a patient's experience with artwork can improve recovery and outlook. Physically, emotionally and spiritually, art can heal. While the state-of-the-art clinical treatments at MD Anderson Cancer Center at Cooper are saving lives, the thoughtfully curated artwork that adorns the Center's walls is helping patients heal emotionally and spiritually.  We call this combination artful healing.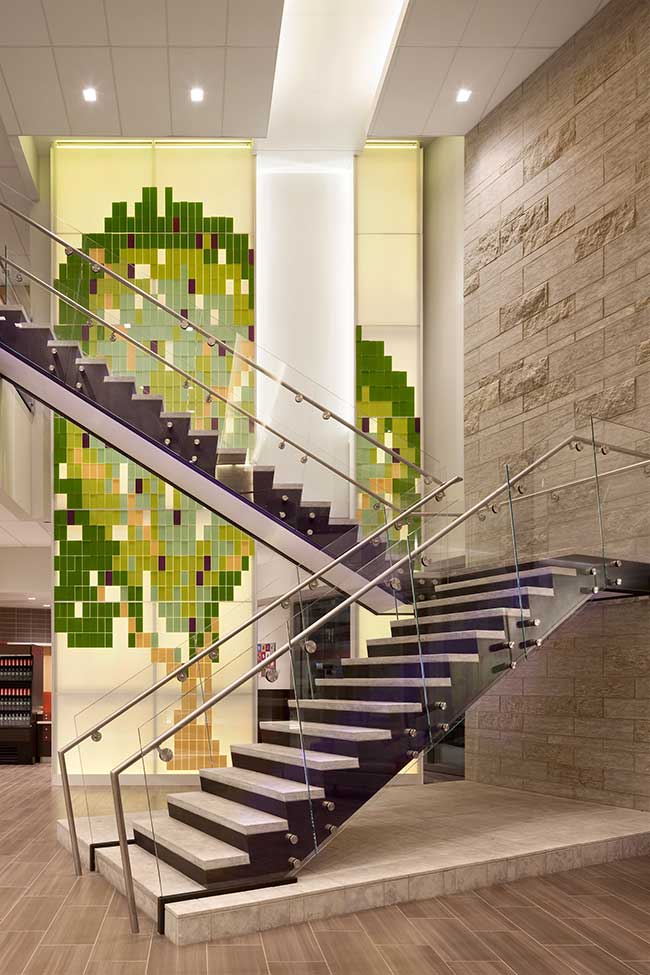 Throughout the Center, patients and families are surrounded by more than 125 pieces of art created by New Jersey artists.  The works have been meticulously curated to bring comfort and serenity during the challenges of diagnosis and treatment. Many of the artists have a personal connection to cancer, and the sensitivity of their work plainly reflects this. As diverse in style, content and media as the images are, they share an empowering message of healing and hope. For example, our collection includes several paintings by the late Alice Steer Wilson, who used her art to keep her going during her battle with breast cancer. "Color was a tonic to my mother," said Janice Wilson Stridick, Alice's daughter. "She would be thrilled to know that her work is providing inspiration, hope, and gentle release for families during their journey with cancer."
The collection also includes fiber art by breast cancer survivor Carolyn Shelby, who started quilting in 2011, a year before she was diagnosed with breast cancer. As Carolyn went through treatment at Cooper, her quilting group cried with her, rejoiced with her and encouraged her. "Cancer showed me that I am creative and that I can use my creativity to make a difference," Shelby said.
One of my personal favorites in the collection is a painting by Camden artist Jeff Filbert called Sunrise that hangs in the main lobby of the Center. As an ovarian cancer survivor, I look at that painting and am reminded that even on the darkest days the sun will rise again. That message of hope and healing is exactly what we want to convey to our patients and their families during their time at MD Anderson Cooper. In addition, last year The Cooper Foundation launched our Artful Healing campaign to provide people an opportunity to show their appreciation for the healing power of art and support cancer care and research at MD Anderson Cooper.
Donations are recognized on our website or with an elegant plaque mounted adjacent to the artwork of choice. The website also allows visitors to review the works of art throughout the Center, learn about each artist and enjoy their interpretation of healing and hope, choose a favorite piece and donate online. At MD Anderson Cooper, we are proud to have created an environment that celebrates life, supports the Center's extraordinarily gifted medical staff and brings tranquility to the brave patients and families who walk through our doors. We have seen firsthand that being surrounded by beautiful artwork lifts the spirit. Art is a remarkably safe and effective medicine. For questions about the Artful Healing campaign at MD Anderson Cancer Center at Cooper, please contact me personally at basslevin-susan@cooperhealth.edu or 856.963.6703.