What is behind the arts and health movement? What do you need to do to institute an arts and health program? What is the difference between healing arts and art therapy? How can we ensure that private insurance companies begin to see the value of the arts in health and wellness? These are just a few of the questions that were broached at Opportunities at the Intersection of Arts & Health, presented by Healing Arts at Atlantic Health, Montclair State University, and the Alliance for Arts & Health NJ. With a diverse group of speakers, we explored the various implementations of arts and healing programs, from traditional creative arts therapies utilizing visual arts and music to the engaging world of creative arts activities that encourage expression and communication. We also considered the quantitative and qualitative measures that we, as a community, ought to be collecting and using to illustrate the overwhelming benefits of the arts in health and wellness agendas.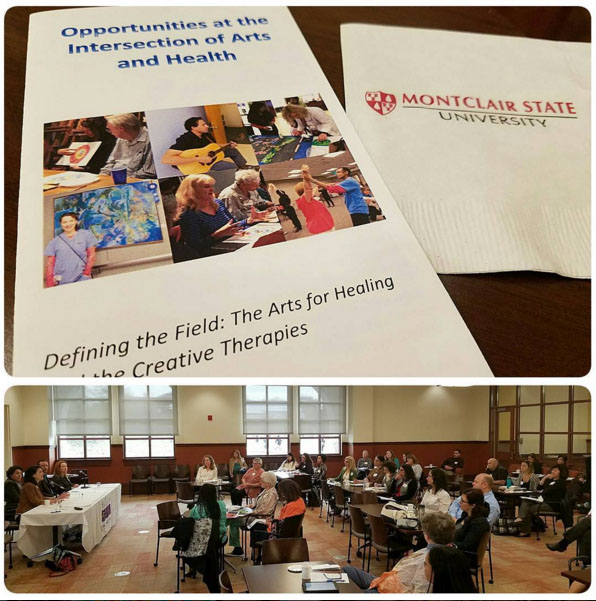 Dr. Marie Wilson, PhD, ATR-BC, ATCS, LPC, Professor in the Department of Psychology and Counseling, and Coordinator of the Art Therapy Programs at Caldwell University, reviewed the requirements needed to become an accredited therapist in NJ. She also heralded the "Art Therapist Licensing Act" that was signed into law by Governor Christie in January as a step toward advancing the profession of arts therapy, as well as offering more opportunities within the mental health field for art therapists themselves. It was Dr. Brian Abrams, PhD, MT-BC, LPC, LCAT, Associate Professor of Music and Coordinator of Music Therapy Programs at Montclair State University, who noted that one of the largest growing audiences for music therapy is the hospice, palliative, and end-of-life care communities. He shared an incredibly moving story about spending final moments with a patient and her family as she uncovered her fear and discovered her peace while engaging with a piece of classical music.
There currently is no licensure for music therapists in NJ, however, a bill was introduced in December 2015 and we will track its movement in the legislature. Brian also spoke about music therapy as a companion to traditional medicinal practice that isn't simply good for the body, but good for the soul.
Eva Mantell, MFA and Artist and Outreach Program Manager with the Arts Council of Princeton, spoke to the healing quality of simple art-making, and the sense of community that blossoms in the programs that she's conducted with at-risk youth, seniors, and caregivers. Healing arts programs are designed to engage a certain population, with all arts disciplines. These classes or workshops often offer the participants the freedom to try something new, to express themselves in a unique way, and to share experiences with peers. Eva considers herself a facilitator in this improvisational expression, only there to guide folks to a place where they find a healthier place within themselves. Lastly, Dr. Christine Lemesianou, PhD and Associate Director for the School of Communication and Media and Coordinator of the Arts and Health Graduate Certificate Program at Montclair State University, shared information about the new certificate program at MSU, and reiterated the therapeutic and restorative qualities of the arts and art-making. Christine also suggested that we need to be sure to infuse art of all kinds into the education of medical professionals so they, too, appreciate the mental and physical benefits of creative expression.
This panel discussion reminded us that it is important to recognize that creative arts therapies are not necessarily about prescriptions or doses or cause-and-effect medicine, but about experiences, communication, and empowerment. However, it is critically important that we find measurable outcomes and a more comprehensive way of assessing and evaluating arts and health programs offered here in New Jersey, in order to shape a strong public policy and convince insurers and facilities of the incredible benefits of creativity. Thanks to all who attended, and a very special thanks to our partners, the Healing Arts at Atlantic Health and Montclair State University. The Alliance for Arts & Health New Jersey (AAHNJ), a cosponsored program of ArtPride New Jersey and the New Jersey State Council on the Arts, is dedicated to bringing artists and arts professionals together with those who provide health and wellness services in order to educate, advocate, and advance best practices in the field.