Frontline Arts connects and builds communities through the socially-engaging arts practices of papermaking and printmaking, namely through Frontline Paper, where veterans make handmade paper from military uniforms. However, when the COVID-19 pandemic hit, we were called to an additional cause: helping socially-distanced healthcare workers tell their stories from the frontlines.
After our Studio Manager Mike Stark combined the idea of making paper from scrubs (with his mother working at the local VA hospital and inspired by FP studio manager Walt Nygard's postcard tests of military paper) with a developing Frontline Arts papermaking program to connect doctors, patients, and veterans affected by the opioid crisis in rural areas, the Scrubs Paper Project was born. 
Mike's personal goal for the Scrubs Project is to have hundreds, if not thousands, of individuals share their stories, as there are more than 18 million people employed in the healthcare sector. He says "it would help paint a true picture of what's been going on for the past several months from a first-person perspective, rather than just the media." Board President Dave Keefe calls it a "collective action to co-create a new narrative of connectivity between healthcare workers and those they serve. The process serves as a much-needed action to highlight the structural and systemic issues that we face when it comes to the government response to a growing pandemic, the need for factual and unifying communication, and the travesty of who actually has access to basic healthcare." 
By the beginning of May (kicked off with our #GivingTuesdayNow campaign), our veteran instructors and program and studio managers Ron Erickson and Walt Nygard were making socially-distanced paper in their backyards, in the early epicenter of the outbreak in Teaneck, N.J. We used initial donations of formerly-worn scrubs from Laura Harvey, an RN in Phillipsburg, N.J., and also from Mary Bohrer, longtime member, former board member, and the wife of a medical doctor in Somerset, N.J.
As we began the project, working with donated scrubs has been beyond fascinating. Mike says, "While deconstructing them, you can't help but wonder what type of situations they've seen, and what the individual wearing them was experiencing and thinking at the time. In that way, it's similar to working with military uniforms." Scrubs also come in a variety of colors, which directly affects the color of the paper, and can be a unique way of visually mapping the effects of the pandemic.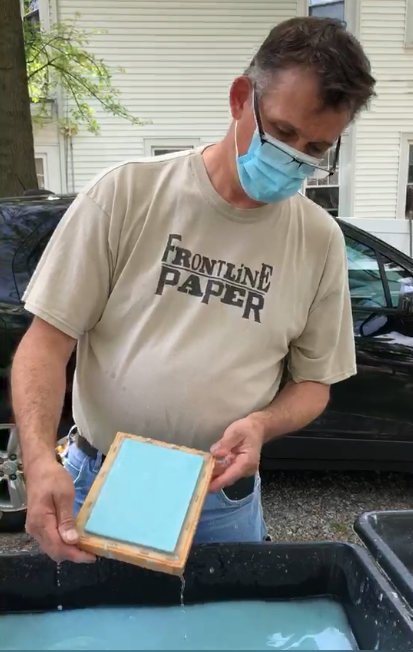 Immediately after our first batch was processed and dried, we began mailing out postcard-printed scrubs paper to all those who donated garments and had them available on our website in packs of five with a stamp and some envelopes to easily send to friends, family, and healthcare workers. We soon began getting artwork back in the mail, in the form of painting and collage (including a mask, writing, and other imagery) from West Virginia and New Jersey. Our end goal is to have a virtual and in-house exhibition of all scrubs artwork made during the pandemic from healthcare workers, families, and recovering patients.
At the same time, we are launching a series of virtual workshops, using the new virtual and by-mail model we have just developed with Frontline Paper, but inside hospitals with healthcare workers themselves. We have a Scrubs Project Committee with several esteemed members and are in talks with the Penn State Health Hershey Medical Center's Center Stage Arts in Health program. We plan to begin a series of small workshops with specific units, launching into a hospital-wide project documenting the pandemic experience, in Spring 2021. This connection was made through our veteran workshop attendee, Mark Oldland, who has been working with Hershey Medical Center for several years and is also proposing a project involving a Scrubs Paper installation on a massive scale, with his artwork documenting the local landscape.
As this project unfolds, we wish to continue bringing communities together in a world that has become increasingly divided and isolated. As Dave Keefe says, "This pandemic has emphasized the need for cultural change, a heightened dialogue, and debate on issues at the core of our collective health and well-being, such as trauma, racism, and mental health." Through deconstructing and reclaiming meaningful garments, Scrubs Paper has become a platform for healthcare workers and those on the frontlines to share their stories, which might otherwise go unheard. Click here to see more about the project.