From Arts Education to the Country Music Hall of Fame, from Big Data and Advocacy to Ben Folds, from Creative Placemaking to Hatch Show Prints, the Americans for the Arts Annual Convention was designed to inspire arts leaders from all across the country ... and inspire it did! For nearly 60 years, Americans for the Arts has convened an annual convention for arts and community leaders to network and discuss strategies for building stronger towns, counties, and cities through the arts. 
And Nashville was the perfect place to see those collaborations in action, and Nashville's mayor, Karl Dean, and the Metro Nashville Arts Commission were the perfect hosts.
"Metro Arts was founded to provide leadership around arts & culture in Nashville. This is a broad mission with many interpretations. In 2010, Metro Arts adopted a way to articulate and measure success through a Theory of Change. Simply, Metro Arts believes that every citizen should have the ability to experience and participate in a creative life."
You can relive the convention by visiting the Americans for the Arts YouTube channel to watch some break-out sessions or any of the plenary sessions, and you can take a look at all of our social media as well. Here are words of wisdom gleaned from #AFTACon 2014: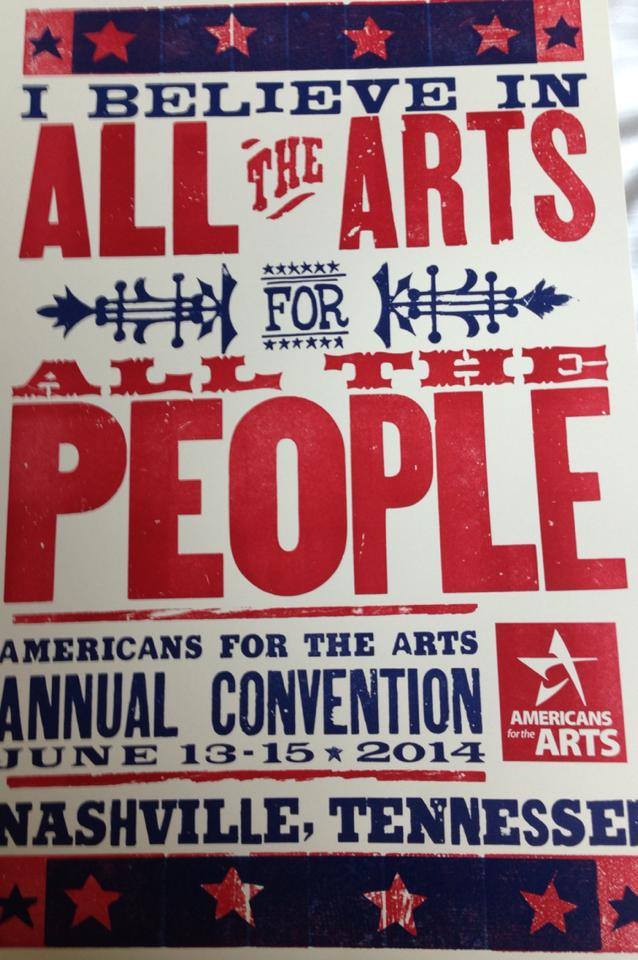 "A theory is interesting if it denies an old truth." -Steven Jay Tepper, Curb Center for Art, Enterprise and Public Policy at Vanderbilt
"The tool will never truly matter ... the how and why you use it matters." - Aryana Anderson, Education Associate at the Apollo Theater (on the use of social media)
"As an arts administrator, don't ever lose your roots as an artist." -Rebecca Burrell,  Outreach Specialist at The Right Brain Institute
"6 Steps to Making Rabid Fans" -Devon Smith, Director of Analytics and Social Media at Threespot

Provide Exclusive Access To Talent
Give Fans Influence To Create Content and Engage in Discussion
Serve Their Needs
Produce a Better Experience
Be Authentic
Ask Fans For Help

"We make art out in the world, but it actually happens in people's brains." - Mark Allen, Founder & Executive Director of Machine Project (on risk-taking, experimenting and failing)
"You don't have to go through a wall ... you can go around it." -Tamara Mozahuani Alvarado, Executive Director of School of Arts and Culture at Mexican Heritage Plaza (on building your own network as an arts leader)
"Never repeat negative language or framing, even to disagree or disavow it." -Charlie Jensen, Development and Communications Manager at Arts for LA (on best practices of the best advocates)
"You cannot change someone's mind, but you can convince them that you both believe the same thing." - Charlie Jensen, Development and Communications Manager at Arts for LA (on how to convince anyone to support the arts)
"Too often, we make it sound like the arts

need

help but the truth is we

provide

help." -Dan Goods, Visual Strategist at the Jet Propulsion Laboratory, NASA (on arts advocacy and what the arts can provide to other community sectors)
"Data that supports your gut is awesome but Data that contradicts your gut is awful." -Arin Sullivan, Senior Associate, State-Based Activities at the Cultural Data Project (on how to use data affectively)
"Traditionally, arts research tends to be anecdote-rich but evidence-poor." - Bill Ivey, China Liaison at the American Folklore Society
"Are awesome people attracted to the arts or do the arts make people awesome?" -Jay Greene, Professor of Education Reform at the University of Arkansas (on the importance of causational data in the arts)
So what can New Jersey adopt from the most inspiring arts leaders from across the country?  What can we learn from one of America's most artistic cities?  What can our state do to ensure that our citizens experience a collaborative creative collective? Please share your thoughts, and let's keep the conversation going!