ArtPride staff just wrapped up 3 days in Atlantic City at the NJ Conference on Tourism and it was truly a fantastic way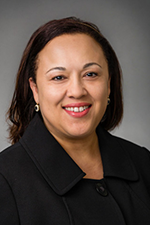 to network with tourism partners.  Besides hearing the latest tourism stats, listening to lessons learned post Katrina/Rita from Pam Breaux, and watching our beaming People's Choice Award winners, there was a lot more to gain from this experience. Governor Christie's remarks were on target as he spoke about changes yet to come through recovery efforts at the Jersey Shore. Most memorable, though, was his advice to preserve the "touch and feel" of the shore and his charge to participants as "protectors of its culture."  This is the first time I've personally heard him speak that word (culture), and I was pleased to hear it being used in such an elemental way.  We know the look may change as shore treasures are guarded from future disasters, but having our senses tuned to preserving culture for future generations is so critical since the flavor of that unique place will be the subject of stories passed on to family and friends for years to come.
Pam Breaux drew startling comparisons of damage inflicted by Hurricanes Katrina and Sandy, and offered a glimpse into how long it may take to reclaim the tourism market and achieve target goals.  She also shared pointers to maximize the impact of the Super Bowl as New Orleans hosted the same mega party post disaster(s).  We had a chance to speak after her remarks and Pam's southern hospitality and friendship was so evident as she continued to share personal experiences. John Lloyd Young was a trooper riding into AC post Jersey Boys performance the night before and prior to shows later the same day in Manhattan. I learned he will stay in the "Frankie Valli" lead into this summer with an encore performance at Club Carlyle in June.  John fondly remembered being part of a NJ Theatre Alliance event at the Manor in East Orange, and offering remarks in support of the arts to Governor Corzine and the NJ State legislature.  
He truly is a Jersey Boy and we are grateful for his kind support of our 2012 People's Choice Award winners, some of which are pictured here (Montclair Arts District, Montclair Art Museum, Montclair Film Festival;  Mid Atlantic Center for the Arts and Humanities; and Shakespeare Theatre of NJ). Card exchanges were happening wildly and new connections and friendships were forged.  It remains absolutely critical for arts groups to be engaged with the tourism community as true partners.  We have a lot to learn and gain from each other, now more than ever!