As an arts administrator, I am very proud of the accomplishments the Monmouth Museum has made over the past 10 years in providing accessible arts and cultural experiences to special need populations. This year, I am both thrilled and humbled to say the Cultural Access Network Project (CAN), a program of the New Jersey Theatre Alliance and NJ State Council on the Arts, is honoring the Monmouth Museum with an Innovator Award. The Museum's daily inclusive policy recognizes that a disability is, more often than not, a long-term or life-long condition; children do not grow out of their disability. We recognize that individuals with special needs and their families have the right to quality arts and educational experiences, and we have a responsibility and privilege to give them the best cultural experience possible. Some of our accessibility services include customized tours, free admission for paraprofessionals and support personnel, afterhours Sensory Aware Nights for individuals with autism and their families; Please Touch exhibitions for visitors with vision loss; height sensitive artwork installations; large print programs; audio and written interpretive tags that work with a visitor's smartphone; complimentary wheelchairs; sensitivity training for staff and docents; and a program for volunteers with autism. The Museum has become known throughout the special education and adult care community as a location where their classes and groups are welcome and our docents are experienced in the needs of their populations.
Being a mother of a 24-year-old son with autism, I know firsthand how important it is to feel welcome and have accommodations and modifications made for my child so he can learn, participate in the arts, be exposed to cultural events and be a part of the community. When my son Sean was first diagnosed with autism at two years old, access to arts and cultural programming was very limited. Today, it is heartwarming to see how many like him benefit from all of the inclusive venue policies, programs and performances being offered. I can confidently say CAN and its professional trainings, access initiatives and the annual awards has played a leading role in this advancement by giving the N.J. arts and cultural community the encouragement, tools and educational resources to make the arts accessible for everyone. As the Jersey Shore's only multifaceted museum, the Monmouth Museum recognizes its responsibility in fostering the arts and learning for everyone. With an organizational commitment to be an accessible community museum, we welcome people with all types of abilities and disabilities to visit our galleries, exhibitions and programs.
The accommodations made for these audiences increase our appeal for all who visit, positively impact our community and thus enhance our inclusiveness. I am happy to say the privilege of receiving the Innovator Award has re-energized the board, staff and volunteer team at the Museum to keep expanding our accessibility features and seek financial support for these programs. We have seen with our own eyes and ears that our efforts offer life-transforming experiences for some the most vulnerable citizens in our community who often have no voice or economic resources to advocate for themselves. No one has described this better than the words of Donny Palmer in his letter of nomination: "I am an Assistant Supervisor at The ARC of Ocean County and we went on a trip to discover some art at the Monmouth Museum. We had 23 energetic participants and seven staff. Unfortunately, a lot of organizations would turn down a group so big or a group with so many special needs. Even if we can find a place of interest, the hosts can often be agitated with the amount of extra work they need to put in to accommodate us. This was not the case with the Monmouth Museum.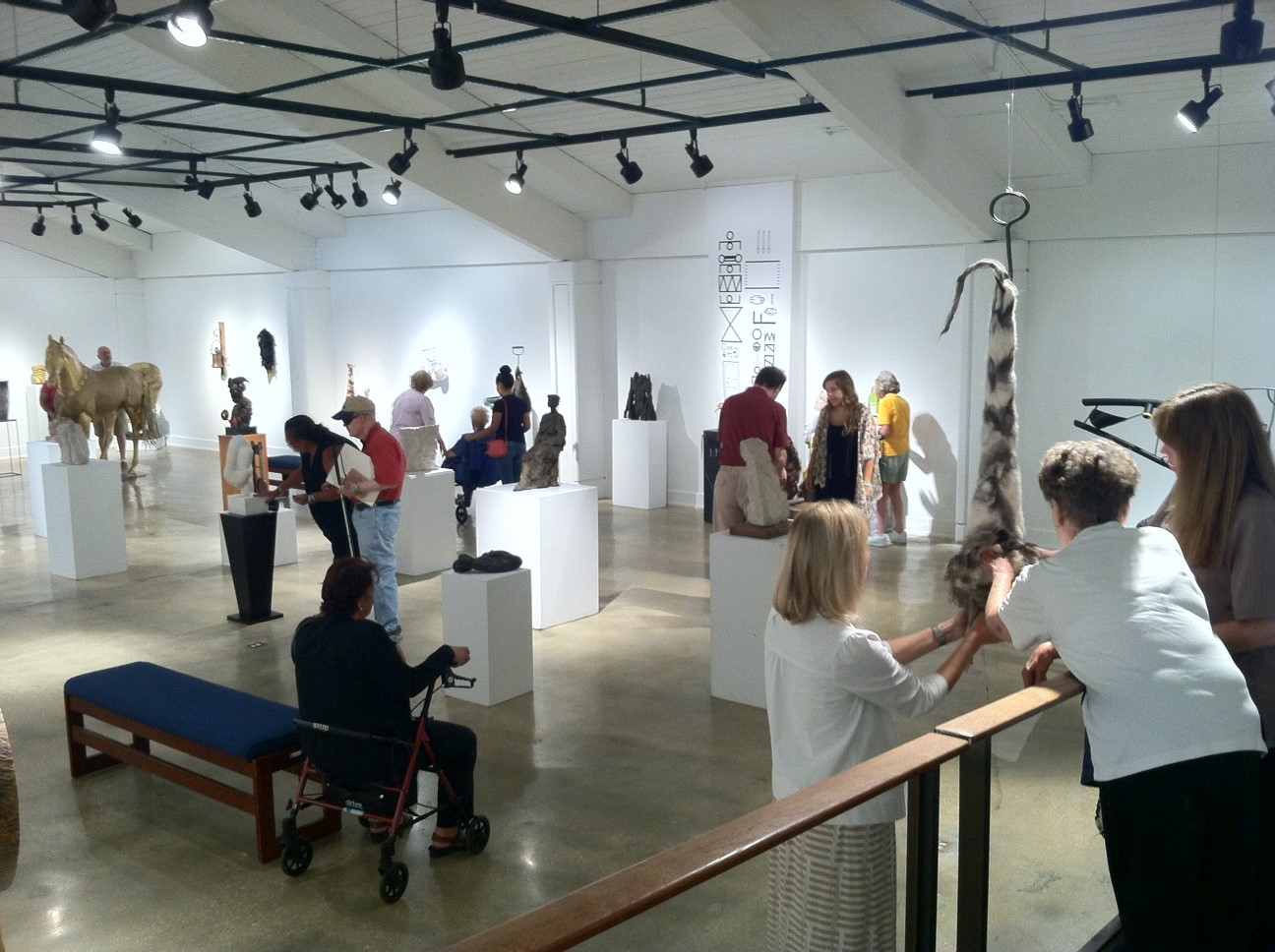 "We were greeted with open arms and open hearts. The Monmouth Museum also gave us a discount and didn't even charge the staff. It is no easy feat to engage 23 participants of varying developmental disabilities but the Monmouth Museum did so with flying colors. We learned so many things about the beautiful art and our hundreds of questions were answered graciously. All of our participants left happy and a few have asked me if they could come back. We'd love to come again and see more exhibits. If any organization is worthy of the CAN awards it should be The Monmouth Museum, a truly inclusive and righteous experience that should set the standard for any organization of the arts." Through the creation and implementation of the Monmouth Museum's accessibility policies, we have learned being inclusive is possible even with a small staff and not-for-profit budget and we strongly encourage other arts and cultural organizations to do the same. So, go ahead, make the arts accessible for everyone! For more information about the Monmouth Museum, visit our website at www.monmouthmuseum.org and follow us on Facebook and Twitter.