In cities across the nation – including Washington, D.C., Boston, Philadelphia, and Pittsburgh – self-identified arts administrators of color have begun creating formal networks to uplift and support one another in the arts and cultural sectors. This effort is also happening right here in New Jersey.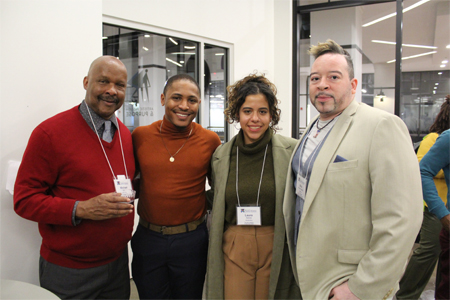 In October of 2019, New Jersey Theatre Alliance developed New Jersey Arts Administrators of Color (NJAAC) with the intent to establish a network of professional arts administrators of color while advancing efforts related to equity, diversity, and inclusion within New Jersey's arts community. This initiative is a partnership between New Jersey Theatre Alliance (NJTA), ArtPride New Jersey, and New Jersey State Council on the Arts (NJSCA).
NJTA is spearheading this project to provide people of color working in the state's arts organizations a safe space to connect and a platform to share their expertise, experiences, and creativity. NJAAC's purpose is to connect, empower, and cultivate professional arts and cultural leaders throughout the Garden State. The program aims to build a community that affords members opportunities to develop personal and professional connections, share resources, and foster emerging leaders. A network such as this is essential in our field to increase the visibility of people of color.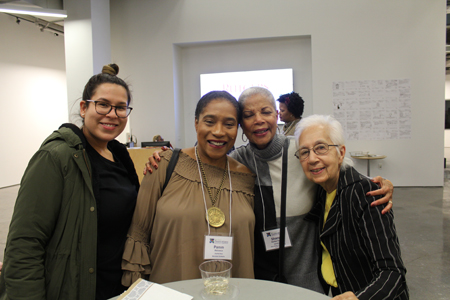 NJAAC offers participation opportunities to any self-identified arts and cultural administrators of color working in New Jersey arts organizations as full-time or part-time employees, interns, or freelance consultants.
In November of 2019, more than 50 arts administrators of color convened in Camden and Newark to celebrate the launch of this new program. Participants were introduced to the potential benefits of this network, such as professional development opportunities, a mentorship program, and granting opportunities to support individual professional advancements. Participants also had the opportunity to connect with one another while also expressing their desires and wishes for NJAAC.
To date, there are currently 90 members in the NJAAC network from diverse backgrounds, organizations, communities, and management levels. To support the growth and development of this program, several members of the network have been invited and accepted the call to serve as this network's advisory committee. Michael "Miko" Castillo (Montclair State University), Andrea Cuevas-Ugrinovic (McCarter Theatre Center) Chase Jackson (Bayshore Center at Bivalve), Kayla Kim Votapek (Rutgers University), Dontae Muse (Above Art Studios), Taneshia Nash Laird (Newark Symphony Hall), and Anita Thomas (Carolyn Dorfman Dance Company) make up the dynamic committee bringing a wealth of knowledge, experience, and talent to the table. Porché Hardy (NJSCA), Vincent Hall (ArtPride New Jersey), and Deonté Griffin-Quick (NJTA) join the group to represent the three partner organizations of this program.
Quarterly gatherings are in development for network members. Future gatherings may include social outings, panels on the importance of producing art in urban communities, and peer-to-peer learning opportunities focused on fundraising. 
To learn more about how to join this network or attend future gatherings, please contact Deonté Griffin-Quick at dgriffin-quick@njtheatrealliance.org.