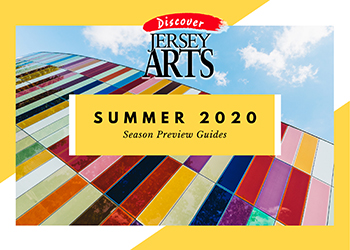 ArtPride, along with our partners at the New Jersey State Council on the Arts, is thrilled to be collaborating with New Jersey Stage on the production and distribution of a series of Summer 2020 Season Preview Guides following the success of our Fall 2019 guides.
These guides will be published digitally under the Discover Jersey Arts brand and will cover content regionally (North, Central, South Jersey). Each will include in-depth feature articles, a photo slideshow of an art exhibit, and a look at events taking place in the area. Guides will be a minimum of 50 pages and will feature content largely unique to the region. 
PLEASE NOTE: In light of the impact public health concerns related to the COVID-19 virus is having on arts organizations, the planned Summer Season Preview Guides have been suspended. We do hope to go ahead with preview guides for the Fall 2020 Season. Details will be released soon.
Full refunds are being issued to all advertisers that purchased space in Summer Season Preview Guides.