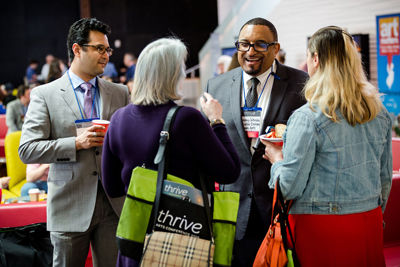 Hundreds of executive, marketing, and development professionals from regional arts organizations converge on Princeton University in June for the biennial Thrive Arts Conference.
Presented in partnership with the Lewis Center for the Arts and New Jersey State Council on the Arts, this daylong event is devoted to exploring how the arts community can confront the challenges and opportunities we face now and in the decades to come.
SAVE THE DATE:
June 11, 2020
Lewis Center Complex at Princeton University (Princeton, NJ)

Conference details to be released soon. In the meantime, check out this video of the 2018 conference keynote address.
---
Exponential Creativity in a World of Abundance
Adam Huttler – CEO, Exponential Creativity Ventures
The world is better than you think. Despite our many serious challenges, when you dig into broad global trends, the clear positive trajectories may surprise you. Against this backdrop and fueled by the opportunities it creates, our culture is shifting from an obsession with consumption to a human-centered paradigm of creation. By far, more people are making art today than ever before in human history, and we're still at the leading edge of this trend.
With so much cause for optimism, then, why are our arts organizations still facing so many legitimate, sometimes existential, threats? The dizzying pace of change – in technology, culture, and demographics – has left our 20th-century model institutions ill-equipped to navigate the future that's unfolding around us. However, that doesn't mean it's time to throw in the towel! Let's take a deep breath and an unflinching look at this brave new cultural landscape.