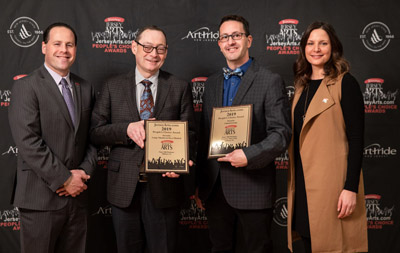 Each year, nearly 20,000 patrons vote for their favorite arts groups in a wide range of categories ranging from favorite theatres and performing arts centers, to museums and galleries, and more. 
 
Nominations
Nominations for these prestigious awards are peer-based and done through the Jersey Arts Marketers (JAM) network. ArtPride distributes a ballot to eligible organizations each fall listing the eligible groups and programs. Multiple contacts from an organization can submit a nominations ballot but are prohibited from nominating their own organization in any category.
Those groups receiving the most support from the field in each category are nominated and appear on that year's public ballot.
Nominations Open: Nov 12, 2019
Nominations Close: Dec 11, 2019
Public Voting  
Each January and February, the public is invited to vote for the nominees in each category or write in their favorites. Voting is limited to one ballot per valid email address. Voting is promoted heavily through social and traditional media. We even provide a promotional toolkit for the nominees to help spread the word. 
The results are tallied up and announced in March at a special joint luncheon with the New Jersey State Council on the Arts at the Lyceum Hall Center for the Arts, home of ArtPride's administrative offices. 
Public Voting Opens: Jan 9, 2020
Public Voting Closes: Feb 20, 2020
View full 2020 results here
Promotional toolkit
Have a question regarding the annual JerseyArts.com People's Choice Awards? Contact Jim Atkinson in programs and services.